Action cameras have revolutionised the world of adventure sports and outdoor activities. When it comes to fishing, innovations like Seavu are transforming these versatile cameras into an angler's best friend. This guide will walk you through how Seavu can harness the power of your action camera and elevate your trolling fishing experiences.
Seavu: More Than Just a Fishing Camera
Seavu is more than a fishing camera. It's a complete system that enhances your fishing trips. Our Explorer housing fits most action cameras, eliminating the worry when upgrading your camera. With Seavu, your action camera turns into a trollcam, providing real-time underwater views.
Our Seavu Swim Kit has everything you need for various swim applications such as drifting, trolling, or using a drop camera. The kit includes a sturdy 27-metre reel with a transmitter for live viewing, and interchangeable fins to suit different conditions. The trolling fin can be used 1m below the surface at speeds up to 8 knots. It also has a clip system that lets you attach your fishing line with a lure or bait rig, enabling you to see and capture the moment when a fish strikes in real time.
Whether you own a GoPro HERO series or a DJI Osmo Action, Seavu makes it easy to transform your action camera into a trollcam. The Seavu Swim Kit simplifies setting up an underwater camera and delivers real-time footage, making it an excellent tool for anyone who loves trolling.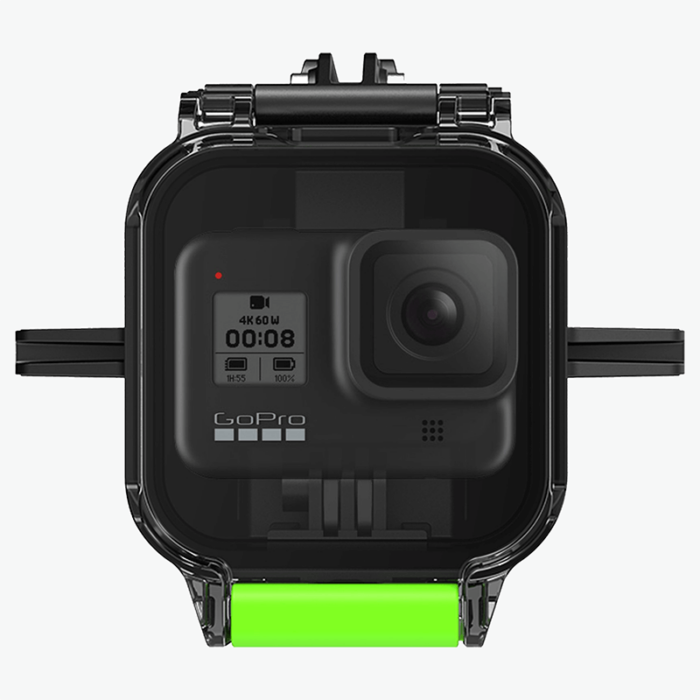 Benefits of Using a Trollcam
When equipped with Seavu, your action camera becomes a potent trollcam that offers several benefits:
Observe and Learn: The Seavu system lets you observe fish interactions with your bait and the underwater environment, improving your understanding of fish behaviour to help you land that prized fish.
Capture Memories: Record all your fishing trips, capturing the thrill of the chase and the joy of landing the big one, and even the one that got away.
Share Your Experiences: Share your underwater footage with fellow anglers, creating a shared learning community and turning fishing trips into shared experiences.

Unleashing the Potential of Your Action Camera with Seavu
The process is simple:
Place your action camera into the Seavu Explorer: The Explorer is compatible with most action cameras and is IPX8 waterproof rated to 50m.
Attach the Troll Fin to the Seavu Explorer: The Explorer features an accessory clip system which allows you to attach various accessories for a wide range of fishing applications.
Connect Receiver and Livestream cable: Our receiver simply slides into the Explorer and picks up the action camera's Wi-Fi signal wirelessly.
Connect to Your Mobile Device: Through your action camera's app, you can connect your mobile phone to the action camera (even when underwater).
Explore the Depths: With your phone connected, your action camera is ready to dive into the water, providing real-time views of the underwater world.

Tips and Tricks for Using Seavu
Here are a few tips to maximise your Seavu experience:
Strategic Camera Placement: Position your camera to capture the best footage of the underwater action.
Use During Optimal Daylight Hours: For the clearest footage, use your Seavu during peak daylight hours.
Review Footage in Real-time: Use the footage captured by Seavu to gain insights about fish behaviour and refine your fishing techniques.
Attach a lure or bait: Use our release clips to attach a lure or bait and watch it swim in real time.
Seavu has truly changed the way we fish, adding a new depth of exploration and excitement to our angling adventures. By harnessing the power of your action camera, Seavu offers a unique underwater perspective that could revolutionise your fishing success.
Ready to transform your action camera into a trollcam? Start using the Seavu Fishing Camera System with your action camera today.
See our Swim Kit – the prefect kit for Trolling
When it comes to capturing the thrilling underwater moments of your fishing expeditions, having the right fishing camera system makes all the difference. In this article, we will compare two leading options in the market: Seavu, our innovative fishing camera system with live preview capabilities, and Gofish Cam, a popular competitor. As we explore the features, pros, and cons of each system, you'll gain valuable insights to help you make an informed decision and choose the ideal fishing camera system for your underwater adventures.
Seavu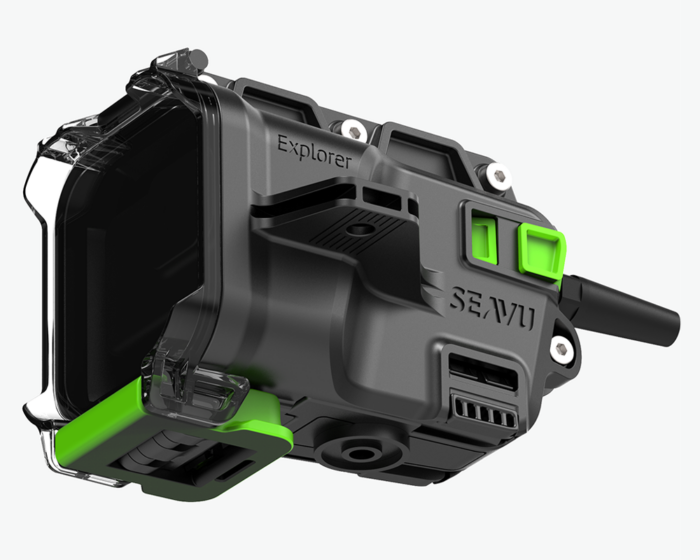 Pros:
Purpose-Built Fishing System: Seavu is a comprehensive fishing camera system specifically designed to capture stunning underwater footage of your fishing techniques, offering a complete solution tailored to anglers.
High Compatibility and Resolution: Seavu seamlessly integrates with leading action cameras like GoPro and DJI, delivering exceptional footage quality with resolutions of up to 5K.
Livestream: Enjoy the ability to live preview what your camera is viewing and recording in real-time via your Action camera app. This feature allows you to fine-tune your fishing techniques and framing to capture the perfect shot.
Advanced App Integration: Seavu harnesses the power of action camera apps like GoPro Quik and DJI Mimo, enabling seamless control, settings customisation, and editing features for enhanced fishing footage.
Versatile Applications: While primarily designed for fishing, Seavu's capabilities extend beyond angling, making it a valuable tool for exploring various underwater activities.
Cons:
Higher Investment: Seavu fishing camera systems range from $990 to $2390, representing a higher upfront investment compared to other fishing camera options.
Action Camera Required: As Seavu utilises an action camera as its primary recording device, users will need to have a compatible camera, which may add to the overall cost.
Gofish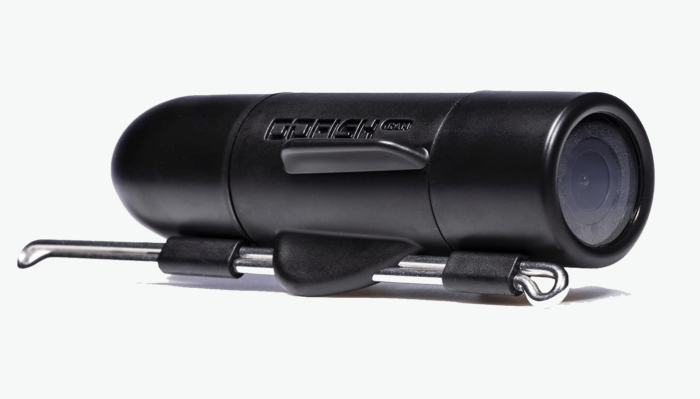 Pros:
Compact and Fishing-Focused Design: Gofish Cam offers a compact fishing camera system designed specifically for anglers, providing a dedicated solution for capturing underwater views of fishing techniques.
Ease of Use: The Gofish Cam system features straightforward controls and functionality, ensuring a hassle-free experience for anglers during their fishing trips.
Cons:
Limited Resolution: Gofish Cam's camera resolution is capped at 2.7K, potentially offering lower image quality compared to fishing camera systems with higher resolutions.
No Livestream: Gofish Cam does not provide live preview capabilities whilst submerged, limiting the ability to fine-tune your framing and fishing techniques in real-time.
Risk of Loss: Since Gofish Cam is attached to the fishing line, there is a slight risk of losing the camera if the line breaks or faces unexpected challenges. No underwater live preview also increases the chances of getting the camera snagged.
Comparison:
In this comparison, we put our own fishing camera system, Seavu, head-to-head against the Gofish Cam. Seavu's purpose-built fishing camera system offers high compatibility, exceptional resolution, live preview capabilities, advanced app integration, and versatile applications beyond fishing. On the other hand, Gofish Cam, while offering a compact and fishing-focused design, falls short in resolution, live preview capabilities, and potential risk of camera loss.
Conclusion:
In our opinion, Seavu emerges as the ultimate fishing camera system, catering to anglers who seek a comprehensive solution for capturing and sharing their underwater fishing experiences. With its fishing-centric design, high-resolution capabilities, underwater livestream, and advanced app integration, Seavu takes underwater fishing capture to new heights. While Gofish Cam offers a dedicated fishing camera system, it has limitations in resolution, limited live preview capabilities, and potential camera loss. Consider your fishing style, preferences, budget, and desired features to make an informed decision on which fishing camera system is best for you.
Check out our Fishing Camera System Kits.
Underwater livestreaming has revolutionised the way we capture and share our underwater adventures. However, using a GoPro or similar action camera for underwater livestreaming can present certain limitations, particularly when it comes to the underwater WiFi connectivity. In this blog post, we will explore the common limitations of GoPro underwater WiFi for livestreaming and how the Seavu solution overcomes them, providing a game-changing alternative for capturing and sharing your underwater experiences.
Extended Underwater WiFi Range:
One of the primary limitations of using GoPro underwater WiFi for livestreaming is the limited connectivity range. GoPro cameras heavily rely on WiFi connections to stream footage to a mobile device. However, once the camera is submerged underwater, the signal range decreases significantly, resulting in a loss of connectivity. This limitation restricts livestreaming capabilities and hinders real-time monitoring and control.
How Seavu Overcomes It
The Seavu solution revolutionises underwater livestreaming by incorporating a Passive WiFi Extension Antenna. This innovative technology significantly extends the underwater WiFi range, allowing for uninterrupted livestreaming even when the Seavu system is submerged up to 27 metres underwater. With Seavu, you can enjoy continuous connectivity and real-time visibility of underwater footage, regardless of the camera's depth, thus enhancing your underwater livestreaming experience.
Optimised Mounting Options:
GoPro cameras offer various mounting options for underwater use, but their versatility can still be limited when it comes to livestreaming. Achieving secure and stable mounting while maintaining a reliable WiFi connection can be challenging. This limitation affects the positioning and stability of the camera, potentially compromising the quality of the livestream.
How Seavu Overcomes It
The Seavu solution provides a comprehensive and optimised mounting system specifically designed for underwater livestreaming. The Seavu Explorer platform features a modular accessory clip system that ensures secure and customisable mounting options. This system guarantees the stability and proper positioning of the camera during livestreaming, resulting in steady footage and an enhanced viewing experience. Seavu's optimised mounting options alleviate the limitations of GoPro underwater WiFi, enabling you to capture uninterrupted livestreams with confidence.
Reliable Waterproofing and Protection:
While GoPro cameras are known for their waterproof capabilities, additional protection is often required for extended underwater use and livestreaming. Traditional waterproof casings may not provide sufficient protection against water damage and may compromise the functionality of the camera's built-in WiFi capabilities.
How Seavu Overcomes It
Seavu addresses the waterproofing concerns by providing the Seavu Explorer, featuring an IPX8 waterproof rating. With a waterproof rating up to 50 metres, the Seavu Explorer offers exceptional protection for your action camera during underwater livestreaming adventures. The fully sealed Explorer Case ensures optimal waterproofing, allowing you to explore the depths with confidence while maintaining reliable WiFi connectivity. Seavu's waterproof design protects your equipment and optimises the GoPro underwater WiFi capabilities for seamless livestreaming.
GoPro underwater WiFi limitations can impede the livestreaming experience when capturing underwater footage. However, the Seavu solution overcomes these limitations by extending the WiFi range, providing optimised mounting options, and ensuring reliable waterproofing and protection. With Seavu, you can achieve uninterrupted and immersive underwater livestreaming, capturing and sharing your underwater adventures like never before. Don't let GoPro underwater WiFi limitations hold you back—embrace the Seavu solution and elevate your underwater livestreaming experience to new depths.
In the era of social media and capturing life's precious moments on the go, video editing apps have become essential tools for users. GoPro Quik and DJI Mimo are two popular apps that offer powerful editing features to enhance your photos and videos. In this blog, we will compare the features and functionalities of GoPro Quik and DJI Mimo, helping you make an informed choice based on your editing needs.
GoPro Quik: Features and Information
GoPro Quik is a versatile app that serves as an all-in-one solution for saving, editing, and sharing your photos and videos. It supports footage captured on GoPro cameras as well as your phone, making it convenient for users with different devices. Let's take a closer look at the key features of GoPro Quik:
Add your photos and videos: GoPro Quik allows you to import unlimited photos, live photos, and video clips from your iPhone's Photo Library or a GoPro camera. Android users can add photos, motion photos, and video clips from their Gallery, Albums, Google Photos, Dropbox, or GoPro Subscription.

Choose your theme: The app offers various themes with transitions and graphics designed for different occasions. You can customise the font, filters, and graphics to fit your personal style.

Customise your video: GoPro Quik provides easy-to-use tools to reorder, trim, zoom, and rotate photos and video clips. You can add text overlays, title slides, and emojis to personalise your story. The app also offers automatic creation of highlight videos or the option to use full video clips. Additionally, you can adjust the speed of the footage or play it in slo-mo. GPS stickers are available to showcase your speed, height, or distance.

Save and share your video: QuikStories can be saved at high resolutions (4K 60fps for iOS and 1080p 60fps for Android). You can share your edited videos to platforms like Instagram, Facebook, YouTube, and more. Alternatively, you can send a private GoPro Quik link via text or email for easy sharing.

Camera Compatibility: GoPro Quik allows you to control your GoPro camera remotely and upload media to the cloud if you have a GoPro subscription. It supports various GoPro models, including HERO11 Black Mini, HERO11 Black, HERO10 Black, HERO9 Black, MAX, HERO8 Black, Fusion, HERO7, HERO6, HERO5, HERO (2018), HERO4, and HERO Session.
DJI Mimo: Features and Information
DJI Mimo is a comprehensive app designed to enhance your photos and videos captured with DJI products. It offers a range of powerful editing tools and intelligent modes to create stunning visual content. Let's explore the key features of DJI Mimo:
Precise Control: DJI Mimo provides users with total control over gimbal movements and camera parameters when using DJI products like Osmo Pocket. You can enjoy an HD live view of the camera, receive overexposure alerts, and access histograms to ensure high-quality visuals.

Intelligent Modes: DJI Mimo utilises intelligent modes and algorithms to capture complex or dynamic shots. ActiveTrack automatically recognises and follows subjects, while FaceTrack ensures you remain at the centre of the frame in Selfie mode. Multiple panorama modes, timelapse, and motionlapse expand your creative options for capturing breathtaking landscapes and travel videos.

Cinematic Experience: The Story mode in DJI Mimo enables users to create cinematic short films

with a single tap. By combining preset shooting patterns and camera motions, you can produce professional-quality videos that are perfect for social media.

Simplified Media Management: After connecting to the DJI Mimo app, the footage shot with your DJI product can be downloaded straight to DJI Mimo. You can edit and manage your content directly in DJI Mimo, eliminating the need to remove the SD card and export materials.

Intuitive Editor: DJI Mimo's editing suite caters to both beginner and experienced users. It offers templates, filters, music, and watermark stickers to set the tone of your video. You can also adjust playback speed, brightness, saturation, contrast, and sharpness to make your finished work truly unique. Alternatively, you can use My Story video templates designed by professional editors to achieve a cinematic look.

DJI Academy: For immersive and active learning, DJI Mimo includes DJI Academy, a resource of tutorial videos and answers to frequently asked questions, providing users with an opportunity to become experienced photographers.
Summary
Both GoPro Quik and DJI Mimo are feature-rich video editing apps that cater to different user preferences and camera setups. GoPro Quik is a versatile solution that supports various devices and provides easy-to-use editing tools, making it suitable for users with GoPro cameras or smartphones. On the other hand, DJI Mimo offers precise control over DJI products and incorporates intelligent modes and cinematic features, ideal for users specifically capturing footage with DJI cameras. Consider your editing needs, camera compatibility, and desired features to determine which app aligns better with your requirements. Whichever you choose, both GoPro Quik and DJI Mimo empower you to create captivating videos to share with your friends, family, and social media audience.
Whether you're capturing adrenaline-filled action shots or peaceful moments in nature, the choice of the right action camera can make all the difference. The GoPro Hero 11 Black and the DJI Action 3 are two leading contenders in the market, each boasting a unique set of features. This comprehensive comparison should help you decide which camera is best suited for your adventures.
GoPro Hero 11 Black
The High-Resolution Powerhouse
The GoPro Hero 11 Black continues GoPro's legacy, integrating a new sensor and wider lens for a better field of view. Renowned for its superior image stabilization, it's perfect for recording high-action sequences without losing image clarity.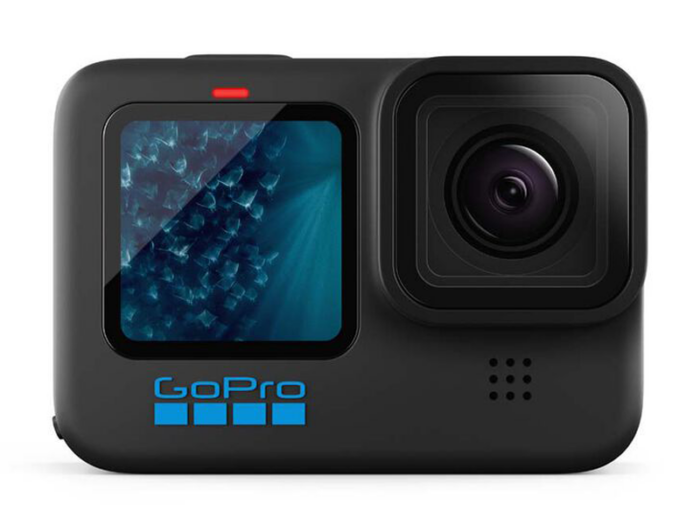 Pros
– Ability to shoot in 5.3K video at up to 50fps, ideal for capturing details.
– Best-in-class image stabilization for smooth, action-packed recordings.
– Flexibility in shooting with an 8:7 sensor, allowing post-shoot adjustment between vertical and horizontal orientations.
Cons
– The front display is view-only, with no interactive controls.
DJI Action 3
Superior Performance in Low-Light Conditions
The DJI Action 3 retains the classic action camera design while adding valuable features such as a front touchscreen and an excellent magnetic mounting system. Its superior low-light performance outshines many, making it an excellent choice for underwater and low-light photography.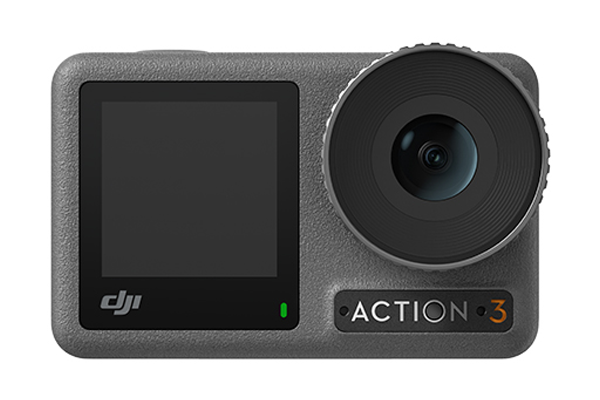 Pros
– Front touchscreen provides user-friendly controls.
– Enhanced low-light performance is perfect for capturing clear images underwater or in dimly lit environments.
– Excellent magnetic mounting system for fast and secure attachment.
Cons
– Doesn't support 5.3K or open gate shooting
Side by Side Comparison
Video and Photo Capture
While the Hero 11 Black excels in high-resolution recording and superior image stabilization, the DJI Action 3 shines in low-light conditions. It captures brighter and more detailed images even in challenging lighting, making it perfect for underwater and low-light photography.
Design and Usability
Both cameras adhere to the traditional action camera design, boasting replaceable lens covers and waterproof features. The DJI Action 3 stands out with its magnetic mounting system that allows for quick adjustments, while the Hero 11 Black has a built-in mount. The DJI camera also has a functional front touchscreen, while the GoPro's front screen is only for viewing.
Battery Life and Durability
Each camera comes equipped with a long-lasting, cold-weather resistant battery, with DJI's Extreme battery holding a slight edge over GoPro's Enduro in capacity. When it comes to weather resistance, DJI Action 3 outperforms with an operating temperature of -20 degrees celsius compared to GoPro's -10 degrees rating.
Pricing
The GoPro Hero 11 Black retails at a higher price point of $799, while the DJI Action 3 is priced at $529. However, with GoPro recently lowering the Hero 11 Black's price to $649, the gap has significantly narrowed.
Live Preview via App
One crucial aspect of using action cameras that often goes overlooked is the functionality offered by their companion apps. Both GoPro and DJI provide companion apps, Quik and Mimo respectively, to enhance the usability of their cameras. However, there is a key difference that could influence your purchasing decision: the ability to live preview your footage while recording.
Since the GoPro Hero 9, the GoPro Quik app has unfortunately disabled the live preview feature while recording. This decision has been met with disappointment by many loyal GoPro users, as the live preview feature is particularly useful when the camera is mounted in a location that's beyond reach, such as on a helmet, car, or drone.
On the other hand, the DJI Mimo app continues to support live preview during recording, even when capturing in 4K resolution. This feature provides users with real-time feedback on the footage being captured, allowing for instant adjustments to the camera angle, position, or settings to ensure the best possible results. This is particularly beneficial when the camera is mounted at a distance or in a hard-to-reach spot.
In this aspect, DJI Action 3 holds a significant edge over the GoPro Hero 11 Black. This can be a game-changing feature for action enthusiasts who rely heavily on app-based controls and live feedback.
See full livestream compatibility list.
Final thoughts
The GoPro Hero 11 Black and the DJI Action 3 each have their unique strengths, appealing to different users based on their specific requirements. The Hero 11 Black is ideal for those seeking high-resolution recording and superior image stabilization. Meanwhile, the DJI Action 3, with its superior low-light performance and user-friendly interface, is a solid option for underwater or dimly lit environments. If live preview while recording is high on your priority list, the DJI Action 3 could be the better option for you.
Remember, the key to choosing an action camera is striking a balance between your needs, the camera's features, and your budget. Each camera offers unique advantages, so select the one that best resonates with your adventure aspirations.
Underwater fishing filmmaking allows you to capture the excitement and beauty of your fishing adventures beneath the surface. To ensure stunning footage and create captivating fishing films, having the right gear and accessories is essential. In this gear guide, we'll explore the must-have equipment for underwater fishing filmmakers, including action cameras, the Seavu underwater camera system, extension poles, dive torches for lighting, and an underwater tripod stand.
Action Camera
An action camera is the backbone of any underwater fishing filmmaker's gear. These compact and durable cameras are designed to withstand underwater conditions and capture high-quality footage. Look for an action camera that offers excellent resolution, image stabilization, and waterproof capabilities. Popular options include the GoPro HERO and DJI Osmo Action series.
Seavu Underwater Camera System

Seavu is a revolutionary product that brings underwater livestream capabilities to the hands of fishing and underwater enthusiasts. With its easy setup and compatibility with action cameras like GoPro, Seavu allows users to capture and livestream underwater footage in real-time to their mobile devices. Whether you're trolling, drifting, or exploring underwater habitats, Seavu enhances your fishing experience by providing immediate visibility and connection to the underwater world. Its durable construction and versatile accessory options make it an essential tool for those looking to document and share their underwater adventures with ease and convenience.
Extension Pole

An extension pole is a versatile accessory that enables you to capture unique angles and perspectives while filming underwater. It extends your reach and allows you to get closer to the action without disturbing the fish. The Seavu system includes a pole mount, compatible with most standard-size painter poles with a 3/4″ 5 thread fitting, avoiding the need to purchase an expensive camera pole. This cost-effective solution provides flexibility and convenience for capturing dynamic shots underwater.
Lighting

Proper lighting is crucial for capturing vibrant and well-illuminated footage underwater. Dive torches that can be mounted on the Seavu Explorer housing provide an excellent lighting solution. These torches offer a powerful and focused beam of light to enhance visibility and highlight the colors of the underwater environment. Look for torches with adjustable brightness levels and a wide beam angle to cover a larger area. Popular options include the Kraken Sports Hydra 3500S+ and the BigBlue AL1800XWP. These dive torches provide reliable and efficient lighting to ensure your footage is vivid and detailed even in low-light conditions.
Underwater Tripod Stand
Having an underwater camera stand is of utmost importance for filming underwater, as it provides stability, flexibility, and convenience in capturing breathtaking footage. The underwater environment can be dynamic, with currents and movements that can make it challenging to maintain a steady shot. An underwater camera stand, such as the Seavu seafloor stand, offers a secure base that anchors the camera to the seafloor, even in strong currents. This stability allows filmmakers to focus on composition and capturing the perfect shot without worrying about camera shake or drift. Additionally, an adjustable mount on the stand enables precise positioning of the camera, allowing filmmakers to capture the desired direction and angle. By providing a reliable foundation, the underwater camera stand ensures that filmmakers can create professional-grade footage, showcasing the beauty and excitement of underwater fishing adventures.
As an underwater fishing filmmaker, having the right gear and accessories is vital for capturing breathtaking footage and creating compelling films. The combination of an action camera, the Seavu underwater camera system, an extension pole, dive torches for lighting, and the Seavu seafloor stand will elevate your filming experience and help you showcase the beauty of the underwater world. Remember to choose gear that suits your specific needs and always prioritize safety while filming underwater. With the right equipment, you'll be ready to embark on unforgettable fishing adventures and document them in cinematic style.
DJI action cameras have gained popularity among adventure enthusiasts for their impressive image quality and robust features. Whether you're snorkeling, diving, or exploring the underwater world, optimizing your DJI action camera settings for underwater conditions can make a significant difference in capturing stunning footage. In this blog post, we will guide you through the best settings to use on your DJI action camera for breathtaking underwater shots. From resolution and frame rate to color profiles and white balance, these settings will help you bring the underwater realm to life with exceptional clarity and vibrancy.
Resolution and Frame Rate
Selecting the right resolution and frame rate is crucial for capturing detailed and smooth underwater footage with your DJI action camera. Choose a high-resolution setting, such as 4K or 2.7K, to ensure maximum detail and clarity in your underwater shots. For smooth and cinematic footage, opt for a frame rate of 24 or 30 frames per second (fps). If you plan to create captivating slow-motion sequences, consider higher frame rates like 60 or 120 fps.
Color Profiles
DJI action cameras offer various color profiles that allow you to customize the look of your underwater footage. Experiment with different color profiles, such as D-Cinelike or D-Log, to capture footage with a wide dynamic range. These profiles preserve more details in the shadows and highlights, giving you greater flexibility during post-processing to achieve the desired look.
White Balance
Underwater environments have unique lighting conditions, and setting the appropriate white balance is essential for accurate color reproduction in your footage. DJI action cameras typically provide options like Auto, Sunny, Cloudy, and Underwater for white balance settings. For the best results underwater, set the white balance to Underwater "AWB" or "Custom" and adjust it manually. This helps the camera adapt to the specific lighting conditions beneath the surface and ensures accurate color rendering.
Exposure Compensation
Adjusting the exposure compensation can help ensure proper exposure in various underwater lighting situations. While the automatic exposure setting can work well in many cases, it's important to keep an eye on the exposure and make adjustments as needed. When using Auto Exposure, we recommend limiting the maximum ISO to 800 (100-800). Underwater scenes with bright surfaces like coral reefs or sandy bottoms may require slight underexposure to avoid overexposing the highlights. Conversely, darker scenes may benefit from slight overexposure to bring out details in the shadows.  Regularly check the exposure and use exposure compensation to fine-tune your footage.
Filters
Using filters specifically designed for underwater photography can greatly enhance your DJI action camera's performance in different water conditions. Filters help correct color casts caused by water's natural tint and restore accurate colors in your footage. Consider using red filters for tropical or bluewater environments to restore warm tones, or magenta filters for green or freshwater environments to counteract the greenish hue. Experiment with different filters to achieve the best color rendition based on the specific underwater setting.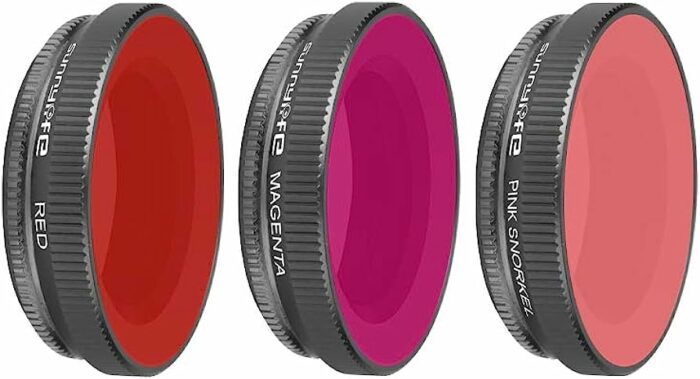 Stabilisation
If your DJI action camera supports it, enabling the RockSteady feature provides advanced stabilization for smoother footage. This is particularly beneficial in underwater environments where water currents or movement can introduce camera shake.
Unlock the true potential of your DJI action camera's underwater capabilities by optimizing the camera settings for the underwater environment. With the right resolution, frame rate, color profiles, white balance, and filters, combined with features like RockSteady, you can capture breathtaking underwater footage that showcases the mesmerizing beauty of the underwater world. Experiment, fine-tune your settings, and adapt to the unique lighting conditions of each dive to capture stunning underwater moments that will leave a lasting impression. Dive in and create unforgettable memories with your DJI action camera!
See DJI Action camera compatibility with Seavu.
We are thrilled to announce that our groundbreaking product, the SEAVU Explorer, has been honored with the prestigious Core77 2023 Design Award for A/V & Photographic Equipment. This recognition celebrates our commitment to excellence, innovation, and sustainability in the design industry. The SEAVU Explorer is set to redefine underwater visibility and videography by making it more affordable, accessible, and environmentally friendly. Let's explore various aspects of the SEAVU Explorer. We'll discuss its features, design process, cultural impact, business case, and aesthetics. We'll focus on its game-changing qualities and how it has the potential to transform the underwater streaming videography market.
About Core77 Design Awards:
Before we dive into the details of the SEAVU Explorer, let's provide some context about the Core77 Design Awards. The Core77 Design Awards celebrate excellence and resilience in the design profession. They do this by recognizing outstanding projects across 23 distinct design disciplines. This globally acclaimed program showcases the richness of design. It also provides professionals and students with a platform to showcase their best work on a global scale.
Introducing SEAVU Explorer:
The SEAVU Explorer is a revolutionary platform that redefines the underwater visibility and videography experience. The SEAVU Explorer is designed to be affordable, versatile, and sustainable. It aims to make underwater videography accessible to a wider audience. This includes fishers, boaters, researchers, and documentary makers. This game-changing product features an easy-to-use underwater live-stream and videography platform that integrates with any off-the-shelf action camera. Unlike existing solutions that are costly and quickly outdated, the SEAVU Explorer offers an affordable and future-proof alternative. See all available kits and accessories.
Design Innovation:
The SEAVU Explorer has advanced features which includes an IP68 waterproof case. It is compatible with leading action cameras. It also has a unique Passive WiFi Extension Antenna. This antenna allows for live streaming of footage up to 27 metres underwater, providing real-time monitoring and recording capabilities. The modular accessory clip system enhances versatility, enabling users to customise their Explorer for various use cases. The SEAVU Explorer captures stunning underwater footage with unparalleled clarity. It can be used in Drifting Mode, Trolling Mode, Seafloor Mode, or Pole Mode.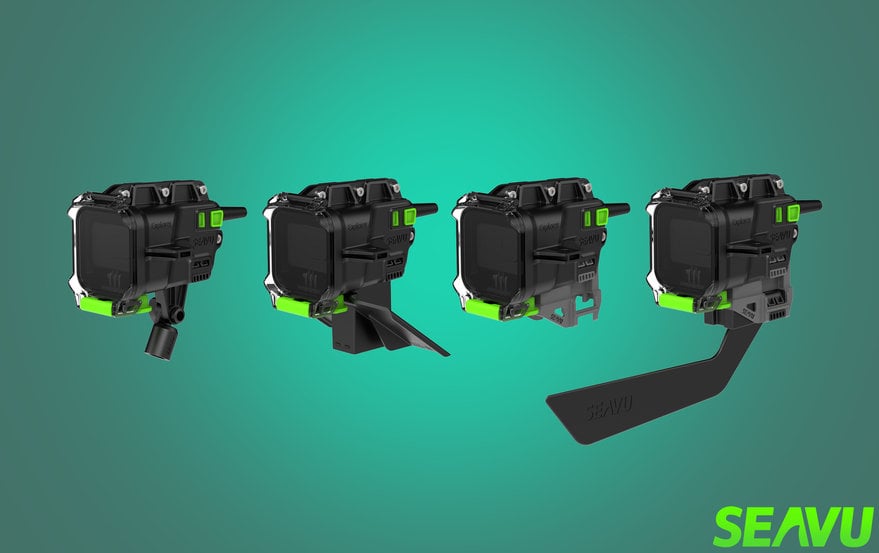 Our Design Process:
The SEAVU Explorer's development was driven by research and collaboration with industry experts. These experts included professional fishers and documentary makers. Our goal was to tackle the limitations of existing underwater cameras. These limitations included high costs, usability challenges on moving boats, and rapid obsolescence. To achieve this, we followed a user-centric design process. The result is a versatile platform that allows users to use their own cameras and phones. Additionally, it offers a variety of easily attachable accessories. Countless hours of testing and prototyping ensured the SEAVU Explorer's functionality and durability, even in challenging marine environments. Meet our amazing ambassadors.
Cultural Impact:
The SEAVU Explorer has the potential to transform underwater videography and exploration, much like drones revolutionised aerial photography. By making live-viewing and videography accessible from boats, the Explorer opens up a new realm of oceanic discovery and connection. Moreover, this platform fosters a more knowledgeable and environmentally conscious boating and fishing community. With enhanced underwater visibility, users can adopt responsible fishing practices and contribute to marine conservation efforts. The SEAVU Explorer's smart modular design promotes sustainability by reducing obsolescence and waste, furthering eco-friendly practices.
Business Case for Underwater Streaming:
The SEAVU Explorer's affordability, versatility, and sustainability make it a compelling product for both casual enthusiasts and professionals. By leveraging existing action cameras and mobile devices, the platform offers a cost-effective solution that drives demand. Its adaptable design encourages custom accessories, expanding the platform's capabilities and reducing environmental impact. The SEAVU Explorer offers distinct features that make it a game-changer in the market. It attracts a diverse audience and set to revolutionise underwater videography. Camera housing compatibility
Aesthetics and Function:
In addition to its innovative features and practicality, the SEAVU Explorer boasts a harmonious blend of form, aesthetics, and function. The platform consists of the Explorer Case. The action camera is mounted on it. There's also the Reel and Cable with Antenna Tether. It manages the 27 metres of Wi-Fi cable. The SEAVU Explorer can be equipped with different accessories. These include the Explorer Weight, Drifting Fin, Trolling Fin, Lure Release Clips. As well as Pole Mount, Mobile Phone Mount, Seafloor Stand, Buoy, and Dive Torches. These accessories allow users to customize the SEAVU Explorer according to their specific requirements. They also help capture amazing footage from different underwater angles.
The SEAVU Explorer's design takes into account the challenges of using the product in a dynamic marine environment. The IPX8 to 27-metre clip closure of the front lens ensures waterproofing and ease of use, even while at sea. Unlike round-shaped designs, the rectangular lens matches the form of most action cameras, reducing unnecessary bulk. The over-centre clip closure can be easily operated single-handedly, making it convenient for users in any situation. Through rigorous testing, the SEAVU Explorer's case has proven waterproof up to 50 metres, surpassing the initial depth target.
The SEAVU Explorer is poised to revolutionise the underwater videography market with its affordability, versatility, and sustainability. By combining cutting-edge technology with user-centric design, the Explorer provides an accessible and future-proof solution for capturing stunning underwater footage. Its cultural impact extends beyond mere videography, fostering a more informed and environmentally conscious boating and fishing community. The SEAVU Explorer is designed with a strong emphasis on aesthetics and functionality. It aims to set a new standard in underwater visibility and videography. The goal is to inspire a deeper connection to the ocean and its wonders. We are proud recipients of the Core77 Design Award. We believe that the SEAVU Explorer will lead the way towards a safer, more informed, and environmentally conscious marine community.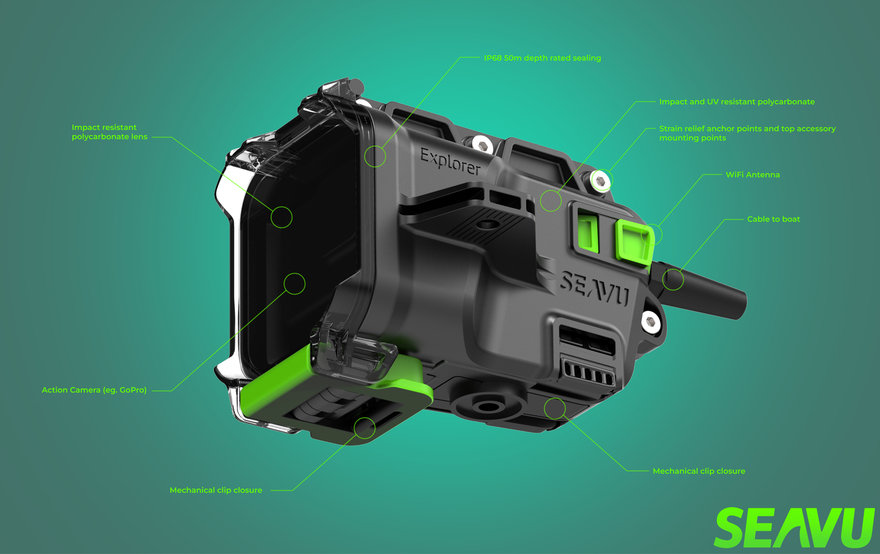 Winner
A/V & Photography Equipment Award
Core77 Design Awards 2023
https://designawards.core77.com/Audio-Video-Photography-Equipment/122425/SEAVU-Explorer