The Beginning

In 2017, Charlo, the founder of Seavu, decided to leave his successful communications career in London and return to his homeland, Australia. Charlo carried with him a lifelong love for fishing, a passion that became his sanctuary from the gruelling 60-hour work weeks he'd left behind. After purchasing a boat to enjoy his fishing escapades, he quickly realised the complexities that beginner fishermen face, particularly the mystery of the underwater world.
Learning the Ropes

Hungry for knowledge, Charlo absorbed every bit of fishing wisdom he could find, driven by his resolution to become an adept angler. However, the onset of the pandemic meant limited opportunities for fishing, making each trip even more precious. But even with the best equipment and a growing wealth of knowledge, Charlo found himself in a sea of overwhelming information, still feeling like he had "all the gear and no idea".
The Turning Point

This persistent conundrum sparked an idea in Charlo's mind. What if he could see what was happening beneath the surface of the water? Would he be able to tell if his fish finder was displaying a school of snapper or just a discarded shopping trolley? It was this curiosity that laid the foundation for what would eventually become Seavu.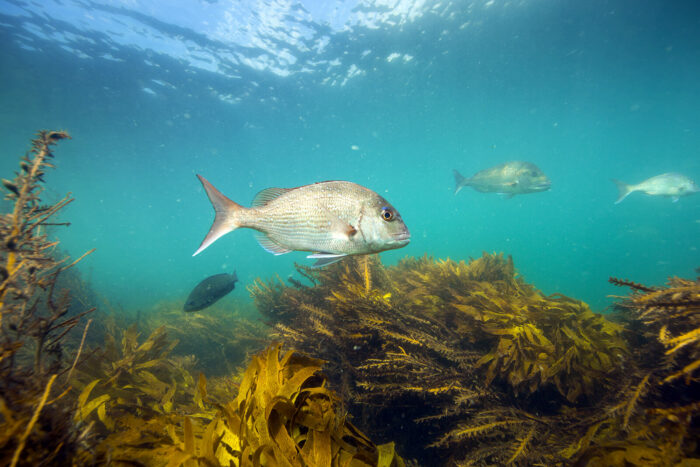 The Challenge

Charlo's concept of viewing real-time underwater footage was ambitious but faced one significant problem. There were no accessible products on the market that fulfilled his requirements. Available options were either exorbitantly priced, complicated to use, or inadequate for adapting to varying conditions. Not deterred by this, Charlo decided to create the solution he needed – his own live-streaming underwater camera.
The Realisation of a Dream

After years of perseverance, multiple prototypes, and the dedication of a skilled team, Seavu finally came to life. Today, it stands as a testament to Charlo's vision and determination, providing a high-quality solution for live-streaming the underwater world.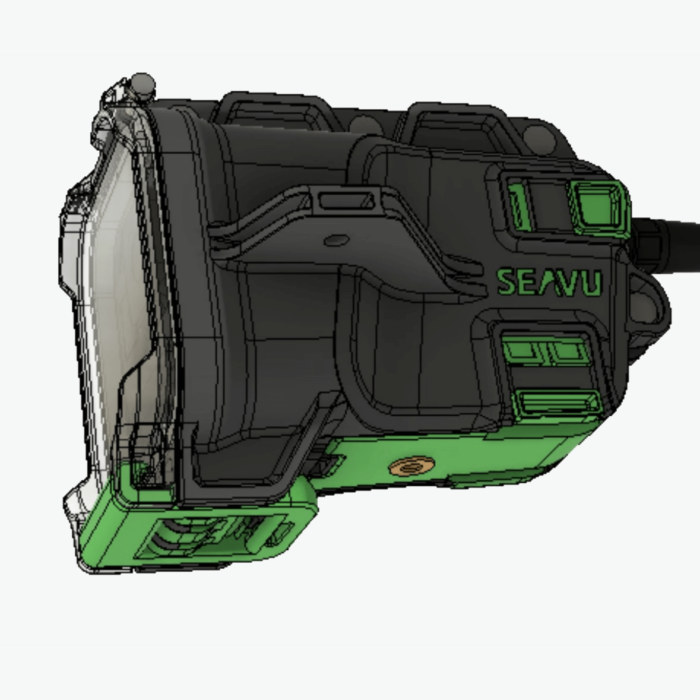 Seavu's journey is more than just the story of a product's development; it's the realisation of a dream, the fruit of dedication, and the embodiment of a love for fishing. Its creation has provided a unique tool that not only enriches the fishing experience but also demystifies the aquatic world for anglers worldwide. And in doing so, it honours the dream of a boy who simply wanted more time to go fishing.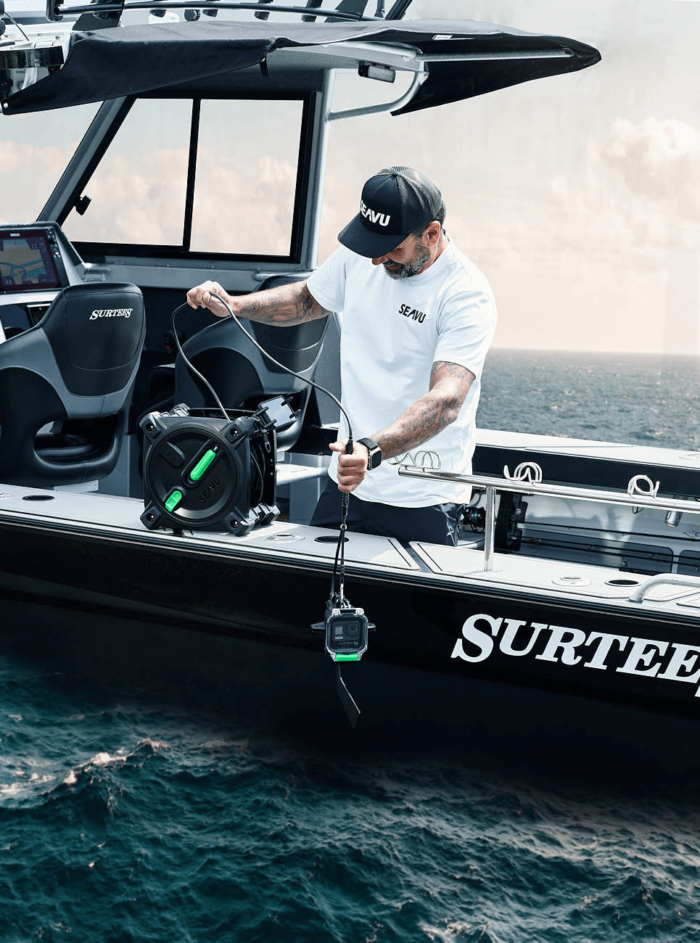 Fishing is not just a hobby; it's a way of connecting with nature, experiencing tranquillity, and seeking the thrill of the catch. As technology advances, fishing enthusiasts are now able to enhance their fishing experience through innovative tools. One such tool is the underwater livestream camera. In this blog post, we will explore the benefits of using an underwater livestream camera for fishing and how it can elevate your fishing adventures to new heights.
Improved Fish Spotting and Understanding
Traditional fishing methods often rely on guesswork and intuition to locate fish. However, an underwater livestream camera provides real-time visibility beneath the water's surface, allowing you to spot fish and observe their behaviour. By gaining visual insights into their habitat, movement patterns, and feeding habits, you can make more informed decisions about bait selection, casting techniques, and optimal fishing spots. This increased understanding can significantly improve your chances of a successful catch.
Enhancing Fishing Techniques
An underwater livestream camera serves as a valuable learning tool to enhance your fishing techniques. By observing how fish react to different bait presentations, lure movements, and retrieval speeds, you can fine-tune your approach accordingly. The camera's live footage enables you to adjust your tactics in real-time, experimenting with different strategies and analysing the fish's responses. This valuable feedback loop can lead to improved fishing skills and increased success rates on future outings.
Exploring New Fishing Grounds
With an underwater livestream camera, you can explore new fishing grounds with confidence. It allows you to assess unfamiliar water bodies, such as lakes, rivers, or coastal areas, before even casting a line. By gaining insights into the underwater terrain, structure, and potential fish populations, you can strategically plan your fishing strategy and identify the most promising locations. This knowledge opens up a world of new fishing opportunities and maximises your chances of landing that prized catch.
Documenting and Sharing Fishing Adventures
An underwater livestream camera is not just a practical tool; it's also a source of incredible memories. Capturing high-quality footage of your fishing adventures adds a new dimension to the experience. You can record exhilarating moments, document rare species, and create captivating videos showcasing your angling skills. Furthermore, sharing these videos with fellow anglers, friends, and family allows you to connect, inspire, and contribute to the fishing community. It becomes a medium for storytelling and fostering a sense of camaraderie among fellow fishing enthusiasts.
Environmental Awareness and Conservation
Using an underwater livestream camera for fishing promotes environmental awareness and conservation efforts. By observing fish behaviour in their natural habitat, you develop a deeper appreciation for their ecosystem and the need to protect it. This firsthand experience enhances your understanding of sustainable fishing practices, such as catch-and-release techniques, respecting fishing regulations, and conserving fish habitats. With this newfound knowledge, you become an advocate for responsible fishing, contributing to the long-term health of aquatic ecosystems and ensuring future generations can enjoy the wonders of fishing.
Engaging with Nature and Learning Opportunities
Fishing is not just about catching fish; it's about immersing yourself in nature and embracing its beauty. Using an underwater livestream camera allows you to witness the underwater world firsthand, discovering the diverse marine life, aquatic plants, and the delicate balance of nature. It provides an educational experience, especially for children, fostering curiosity, respect for the environment, and a desire to protect our natural resources. Through this unique perspective, you can cultivate a lifelong passion for fishing and environmental stewardship.
The benefits of using an underwater livestream camera for fishing are undeniable. From improving fish spotting and enhancing fishing techniques to exploring new fishing grounds and documenting memorable moments, the camera revolutionises the way we approach angling. It promotes environmental awareness, encourages responsible fishing practices, and opens doors to new learning opportunities. By embracing this technology, fishing enthusiasts can elevate their fishing experience, creating lasting memories and forging a deeper connection with the underwater world. So, grab your underwater livestream camera and embark on unforgettable fishing adventures that blend the excitement of angling with the wonders of the aquatic realm.
We are thrilled to announce that our groundbreaking product, the SEAVU Explorer, has been honored with the prestigious Core77 2023 Design Award for A/V & Photographic Equipment. This recognition celebrates our commitment to excellence, innovation, and sustainability in the design industry. The SEAVU Explorer is set to redefine underwater visibility and videography by making it more affordable, accessible, and environmentally friendly. Let's explore various aspects of the SEAVU Explorer. We'll discuss its features, design process, cultural impact, business case, and aesthetics. We'll focus on its game-changing qualities and how it has the potential to transform the underwater streaming videography market.
About Core77 Design Awards:
Before we dive into the details of the SEAVU Explorer, let's provide some context about the Core77 Design Awards. The Core77 Design Awards celebrate excellence and resilience in the design profession. They do this by recognizing outstanding projects across 23 distinct design disciplines. This globally acclaimed program showcases the richness of design. It also provides professionals and students with a platform to showcase their best work on a global scale.
Introducing SEAVU Explorer:
The SEAVU Explorer is a revolutionary platform that redefines the underwater visibility and videography experience. The SEAVU Explorer is designed to be affordable, versatile, and sustainable. It aims to make underwater videography accessible to a wider audience. This includes fishers, boaters, researchers, and documentary makers. This game-changing product features an easy-to-use underwater live-stream and videography platform that integrates with any off-the-shelf action camera. Unlike existing solutions that are costly and quickly outdated, the SEAVU Explorer offers an affordable and future-proof alternative. See all available kits and accessories.
Design Innovation:
The SEAVU Explorer has advanced features which includes an IP68 waterproof case. It is compatible with leading action cameras. It also has a unique Passive WiFi Extension Antenna. This antenna allows for live streaming of footage up to 27 metres underwater, providing real-time monitoring and recording capabilities. The modular accessory clip system enhances versatility, enabling users to customise their Explorer for various use cases. The SEAVU Explorer captures stunning underwater footage with unparalleled clarity. It can be used in Drifting Mode, Trolling Mode, Seafloor Mode, or Pole Mode.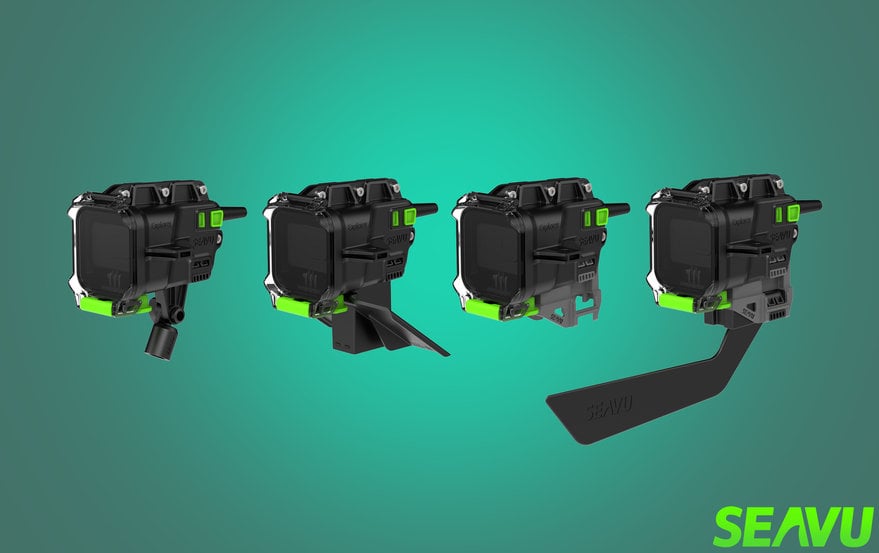 Our Design Process:
The SEAVU Explorer's development was driven by research and collaboration with industry experts. These experts included professional fishers and documentary makers. Our goal was to tackle the limitations of existing underwater cameras. These limitations included high costs, usability challenges on moving boats, and rapid obsolescence. To achieve this, we followed a user-centric design process. The result is a versatile platform that allows users to use their own cameras and phones. Additionally, it offers a variety of easily attachable accessories. Countless hours of testing and prototyping ensured the SEAVU Explorer's functionality and durability, even in challenging marine environments. Meet our amazing ambassadors.
Cultural Impact:
The SEAVU Explorer has the potential to transform underwater videography and exploration, much like drones revolutionised aerial photography. By making live-viewing and videography accessible from boats, the Explorer opens up a new realm of oceanic discovery and connection. Moreover, this platform fosters a more knowledgeable and environmentally conscious boating and fishing community. With enhanced underwater visibility, users can adopt responsible fishing practices and contribute to marine conservation efforts. The SEAVU Explorer's smart modular design promotes sustainability by reducing obsolescence and waste, furthering eco-friendly practices.
Business Case for Underwater Streaming:
The SEAVU Explorer's affordability, versatility, and sustainability make it a compelling product for both casual enthusiasts and professionals. By leveraging existing action cameras and mobile devices, the platform offers a cost-effective solution that drives demand. Its adaptable design encourages custom accessories, expanding the platform's capabilities and reducing environmental impact. The SEAVU Explorer offers distinct features that make it a game-changer in the market. It attracts a diverse audience and set to revolutionise underwater videography. Camera housing compatibility
Aesthetics and Function:
In addition to its innovative features and practicality, the SEAVU Explorer boasts a harmonious blend of form, aesthetics, and function. The platform consists of the Explorer Case. The action camera is mounted on it. There's also the Reel and Cable with Antenna Tether. It manages the 27 metres of Wi-Fi cable. The SEAVU Explorer can be equipped with different accessories. These include the Explorer Weight, Drifting Fin, Trolling Fin, Lure Release Clips. As well as Pole Mount, Mobile Phone Mount, Seafloor Stand, Buoy, and Dive Torches. These accessories allow users to customize the SEAVU Explorer according to their specific requirements. They also help capture amazing footage from different underwater angles.
The SEAVU Explorer's design takes into account the challenges of using the product in a dynamic marine environment. The IPX8 to 27-metre clip closure of the front lens ensures waterproofing and ease of use, even while at sea. Unlike round-shaped designs, the rectangular lens matches the form of most action cameras, reducing unnecessary bulk. The over-centre clip closure can be easily operated single-handedly, making it convenient for users in any situation. Through rigorous testing, the SEAVU Explorer's case has proven waterproof up to 50 metres, surpassing the initial depth target.
The SEAVU Explorer is poised to revolutionise the underwater videography market with its affordability, versatility, and sustainability. By combining cutting-edge technology with user-centric design, the Explorer provides an accessible and future-proof solution for capturing stunning underwater footage. Its cultural impact extends beyond mere videography, fostering a more informed and environmentally conscious boating and fishing community. The SEAVU Explorer is designed with a strong emphasis on aesthetics and functionality. It aims to set a new standard in underwater visibility and videography. The goal is to inspire a deeper connection to the ocean and its wonders. We are proud recipients of the Core77 Design Award. We believe that the SEAVU Explorer will lead the way towards a safer, more informed, and environmentally conscious marine community.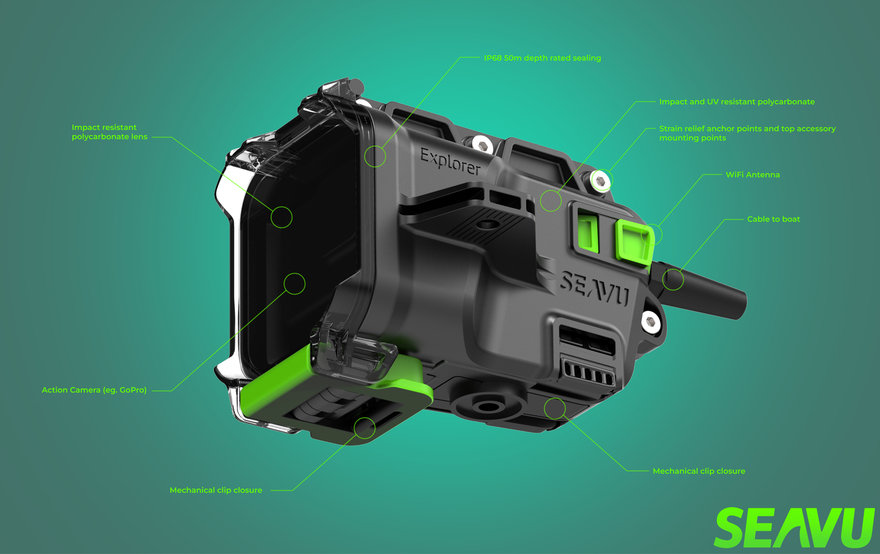 Winner
A/V & Photography Equipment Award
Core77 Design Awards 2023
https://designawards.core77.com/Audio-Video-Photography-Equipment/122425/SEAVU-Explorer