We are thrilled to announce that our groundbreaking product, the SEAVU Explorer, has been honored with the prestigious Core77 2023 Design Award for A/V & Photographic Equipment. This recognition celebrates our commitment to excellence, innovation, and sustainability in the design industry. The SEAVU Explorer is set to redefine underwater visibility and videography by making it more affordable, accessible, and environmentally friendly. Let's explore various aspects of the SEAVU Explorer. We'll discuss its features, design process, cultural impact, business case, and aesthetics. We'll focus on its game-changing qualities and how it has the potential to transform the underwater streaming videography market.
About Core77 Design Awards:
Before we dive into the details of the SEAVU Explorer, let's provide some context about the Core77 Design Awards. The Core77 Design Awards celebrate excellence and resilience in the design profession. They do this by recognizing outstanding projects across 23 distinct design disciplines. This globally acclaimed program showcases the richness of design. It also provides professionals and students with a platform to showcase their best work on a global scale.
Introducing SEAVU Explorer:
The SEAVU Explorer is a revolutionary platform that redefines the underwater visibility and videography experience. The SEAVU Explorer is designed to be affordable, versatile, and sustainable. It aims to make underwater videography accessible to a wider audience. This includes fishers, boaters, researchers, and documentary makers. This game-changing product features an easy-to-use underwater live-stream and videography platform that integrates with any off-the-shelf action camera. Unlike existing solutions that are costly and quickly outdated, the SEAVU Explorer offers an affordable and future-proof alternative. See all available kits and accessories.
Design Innovation:
The SEAVU Explorer has advanced features which includes an IP68 waterproof case. It is compatible with leading action cameras. It also has a unique Passive WiFi Extension Antenna. This antenna allows for live streaming of footage up to 27 metres underwater, providing real-time monitoring and recording capabilities. The modular accessory clip system enhances versatility, enabling users to customise their Explorer for various use cases. The SEAVU Explorer captures stunning underwater footage with unparalleled clarity. It can be used in Drifting Mode, Trolling Mode, Seafloor Mode, or Pole Mode.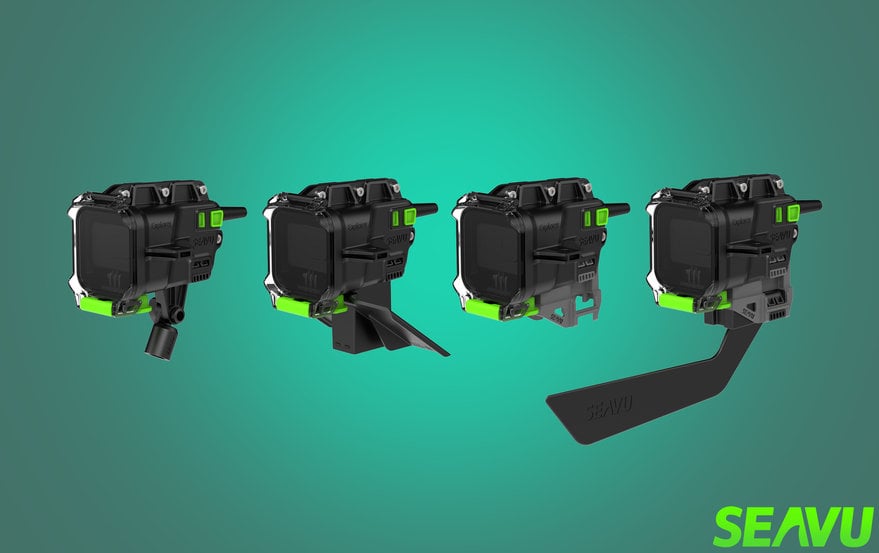 Our Design Process:
The SEAVU Explorer's development was driven by research and collaboration with industry experts. These experts included professional fishers and documentary makers. Our goal was to tackle the limitations of existing underwater cameras. These limitations included high costs, usability challenges on moving boats, and rapid obsolescence. To achieve this, we followed a user-centric design process. The result is a versatile platform that allows users to use their own cameras and phones. Additionally, it offers a variety of easily attachable accessories. Countless hours of testing and prototyping ensured the SEAVU Explorer's functionality and durability, even in challenging marine environments. Meet our amazing ambassadors.
Cultural Impact:
The SEAVU Explorer has the potential to transform underwater videography and exploration, much like drones revolutionised aerial photography. By making live-viewing and videography accessible from boats, the Explorer opens up a new realm of oceanic discovery and connection. Moreover, this platform fosters a more knowledgeable and environmentally conscious boating and fishing community. With enhanced underwater visibility, users can adopt responsible fishing practices and contribute to marine conservation efforts. The SEAVU Explorer's smart modular design promotes sustainability by reducing obsolescence and waste, furthering eco-friendly practices.
Business Case for Underwater Streaming:
The SEAVU Explorer's affordability, versatility, and sustainability make it a compelling product for both casual enthusiasts and professionals. By leveraging existing action cameras and mobile devices, the platform offers a cost-effective solution that drives demand. Its adaptable design encourages custom accessories, expanding the platform's capabilities and reducing environmental impact. The SEAVU Explorer offers distinct features that make it a game-changer in the market. It attracts a diverse audience and set to revolutionise underwater videography. Camera housing compatibility
Aesthetics and Function:
In addition to its innovative features and practicality, the SEAVU Explorer boasts a harmonious blend of form, aesthetics, and function. The platform consists of the Explorer Case. The action camera is mounted on it. There's also the Reel and Cable with Antenna Tether. It manages the 27 metres of Wi-Fi cable. The SEAVU Explorer can be equipped with different accessories. These include the Explorer Weight, Drifting Fin, Trolling Fin, Lure Release Clips. As well as Pole Mount, Mobile Phone Mount, Seafloor Stand, Buoy, and Dive Torches. These accessories allow users to customize the SEAVU Explorer according to their specific requirements. They also help capture amazing footage from different underwater angles.
The SEAVU Explorer's design takes into account the challenges of using the product in a dynamic marine environment. The IPX8 to 27-metre clip closure of the front lens ensures waterproofing and ease of use, even while at sea. Unlike round-shaped designs, the rectangular lens matches the form of most action cameras, reducing unnecessary bulk. The over-centre clip closure can be easily operated single-handedly, making it convenient for users in any situation. Through rigorous testing, the SEAVU Explorer's case has proven waterproof up to 50 metres, surpassing the initial depth target.
The SEAVU Explorer is poised to revolutionise the underwater videography market with its affordability, versatility, and sustainability. By combining cutting-edge technology with user-centric design, the Explorer provides an accessible and future-proof solution for capturing stunning underwater footage. Its cultural impact extends beyond mere videography, fostering a more informed and environmentally conscious boating and fishing community. The SEAVU Explorer is designed with a strong emphasis on aesthetics and functionality. It aims to set a new standard in underwater visibility and videography. The goal is to inspire a deeper connection to the ocean and its wonders. We are proud recipients of the Core77 Design Award. We believe that the SEAVU Explorer will lead the way towards a safer, more informed, and environmentally conscious marine community.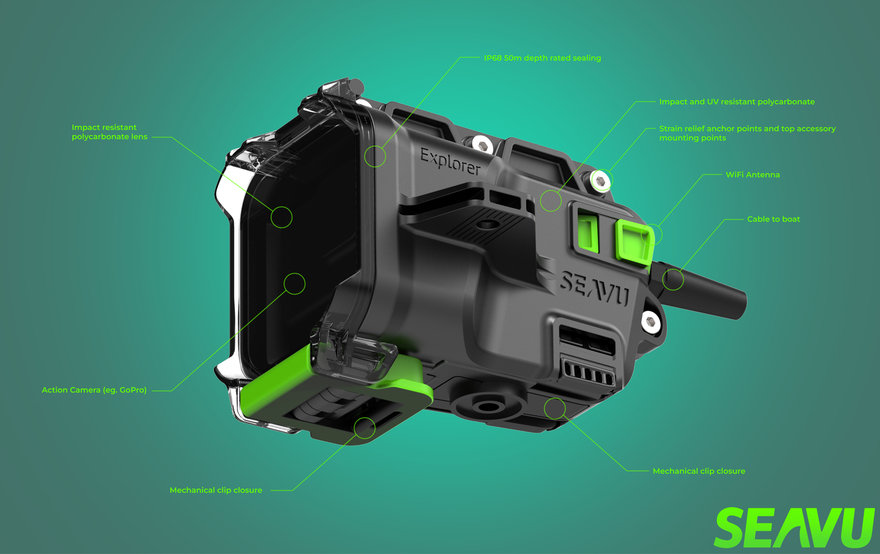 Winner
A/V & Photography Equipment Award
Core77 Design Awards 2023
https://designawards.core77.com/Audio-Video-Photography-Equipment/122425/SEAVU-Explorer