Over the years, fishing has witnessed the integration of various technologies aimed at enhancing the experience and improving success rates. Among these emerging technologies, underwater drones, often referred to as ROVs (Remotely Operated Vehicles), have sparked considerable interest. These devices offer an unprecedented view into the aquatic world, opening up new possibilities for anglers. However, as with any technology, they are not without their limitations. Let's dive deeper into the world of underwater drones and explore their pros and cons in fishing.
Underwater Drones: A New Angle to Fishing
Underwater drones are capable of diving deep into water bodies, capturing high-resolution video footage and still images of the underwater environment. Equipped with powerful propellers, these drones can navigate through strong currents and around underwater structures, providing a real-time view of what's happening beneath the water's surface. For anglers, this means the ability to scout out potential fishing spots, identify the species present, and even observe fish behavior—all without casting a line.
The Limitations of Underwater Drones in Fishing
Despite the exciting prospects offered by underwater drones, they are not without drawbacks. Here are some of the key limitations that come into play when using these devices for fishing:
Legal Restrictions
Before deploying an underwater drone for fishing, it's crucial to be aware of the legal restrictions in place. In many regions, there are regulations governing the use of drones (both aerial and underwater) in public water bodies. These rules can limit where and when you can use your drone, potentially restricting their utility for fishing.
Battery Life
While underwater drones can dive deep and navigate challenging underwater environments, they are limited by their battery life. Most drones can operate for one to four hours on a single charge, depending on their design and the conditions they're used in. This limited operational time can restrict how much you can explore and how far the drone can travel from its base station.
Signal Interference
Underwater drones rely on a tethered connection to their base station to transmit video feeds and receive control signals. However, this connection can be affected by interference from various sources, including other electronic devices, marine equipment, and even natural elements in the water. Any interruption in the signal can result in loss of control, limiting the drone's effectiveness.
Environmental Impact
There are also concerns about the potential impact of underwater drones on aquatic environments and wildlife. The noise and light produced by these devices can disrupt marine life, and there is always the risk of entanglement with aquatic plants or debris.
Cost
High-quality underwater drones can be costly, with prices ranging from several hundred to a few thousand dollars. This investment may not be justifiable for casual anglers or those who only fish occasionally.
Underwater drones present exciting possibilities for anglers, offering a new perspective on the aquatic world and potentially improving the success of fishing trips. However, their limitations, ranging from legal restrictions and battery life to signal interference, environmental impact, and cost, cannot be overlooked. Therefore, when considering an underwater drone for fishing, it's important to weigh these factors against the potential benefits to determine if it's the right choice for you.
Underwater fishing adventures offer a captivating experience, and capturing the underwater world has become more accessible with advancements in technology. In this blog post, we will compare Seavu, a versatile underwater livestream solution, with underwater drones specifically for fishing purposes. By exploring the pros and cons of each option, you can make an informed decision about the best tool to enhance your underwater fishing experiences.
Seavu: Enhancing Fishing Livestream with Versatility
Seavu offers several advantages tailored to underwater fishing
Cost-Effectiveness and Accessibility: Seavu provides an affordable option for capturing underwater footage by utilizing your existing action camera, such as a GoPro. This makes it accessible to a wide range of fishing enthusiasts, eliminating the need for additional expensive equipment.
Easy Setup and Operation: With its plug-and-play functionality, Seavu is designed for user-friendliness. Setting it up and getting started with livestreaming underwater footage is a hassle-free process, allowing you to focus more on your fishing adventure. Simply insert your action camera into the Seavu Explorer case, and you're ready to dive into the underwater world.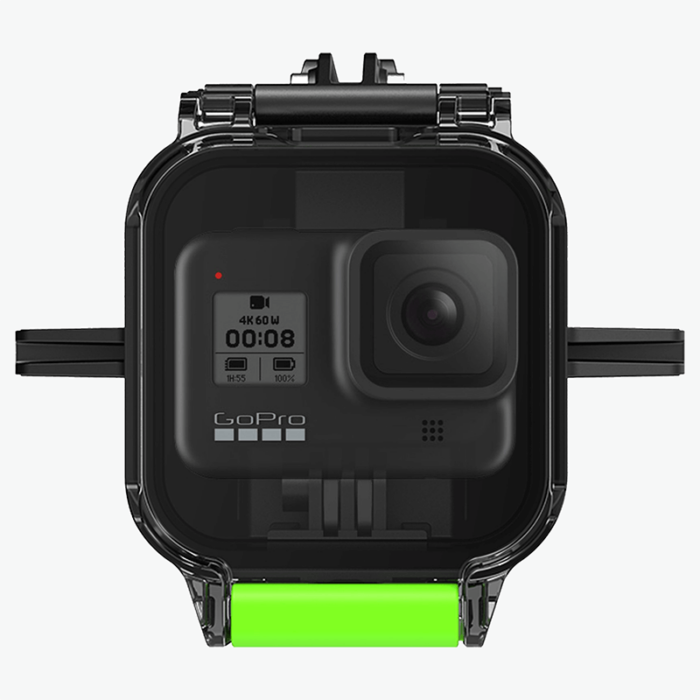 Real-Time Livestreaming: Seavu allows you to livestream underwater footage in real-time to your mobile device. This feature provides immediate visibility into underwater activity, enabling you to monitor fish behaviour and make well-informed fishing decisions on the spot. You can observe fish strikes, explore fishing grounds, track the movements of schools of fish, and adjust your fishing strategies accordingly, all in real-time.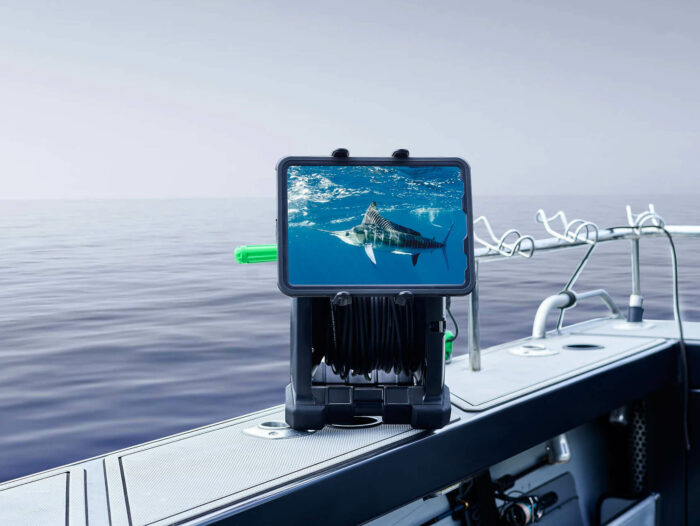 Customization and Versatility: Seavu's modular accessory clip system enables customization based on your fishing preferences. You can easily attach accessories like trolling fins, bait release clips, or pole mounts to tailor the system to your specific fishing techniques. This level of customization increases your chances of success and allows you to adapt to different fishing scenarios. Whether you're trolling, casting, or drop fishing, Seavu can be customised to meet your specific needs.
Underwater Drones: Capturing the Depths with Precision
Underwater drones, also known as underwater ROVs (remotely operated vehicles), provide unique advantages for fishing enthusiasts
Remote Exploration of Fishing Spots: Underwater drones allow for remote exploration of potential fishing spots. Equipped with high-resolution cameras, these drones provide a bird's-eye view of the underwater landscape, enabling you to identify underwater structures, locate schools of fish, and scout the perfect fishing location without submerging yourself.
Precise Underwater Manoeuvrability: Underwater drones offer precise control and manoeuvrability, allowing you to navigate tight spaces and manoeuvre around submerged structures. This capability ensures that you can reach areas that may be difficult to access with traditional fishing gear, expanding your fishing opportunities.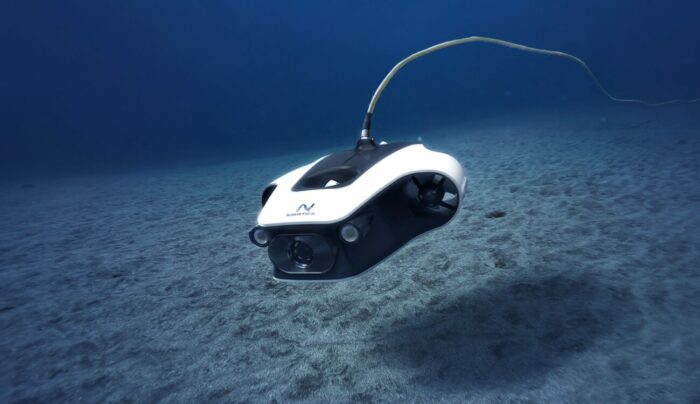 Potential Drawbacks of Underwater Drones
While underwater drones offer unique advantages, it's important to consider the potential drawbacks specific to fishing.
Noise and Disturbance: Underwater drones can create noise and vibrations that may disturb marine wildlife. This disturbance can affect their natural behaviour and may interfere with the fishing experience.
User Distraction: Operating an underwater drone requires constant attention and focus, which can detract from the fishing experience. It may divert your attention from actively fishing and enjoying the surroundings, as you need to monitor and control the drone.
Limited Fishing Applications: Underwater drones are primarily designed for exploration purposes and are not optimized for specific fishing techniques like trolling. Their size and configuration is not be suitable for efficient trolling operations. Instead, underwater drones excel in tasks such as scouting and mapping fishing grounds while the boat is anchored.
Pros and Cons: Seavu vs. Underwater Drones for Underwater Fishing
Let's examine the pros and cons of Seavu and underwater drones, specifically for underwater fishing:
Seavu Pros:
– Cost-effective and accessible solution
– Easy setup and operation
– Real-time underwater livestreaming capabilities
– Customizable with a modular accessory clip system
Seavu Cons:
– Limited range compared to underwater drones
Underwater Drone Pros:
– Remote exploration of fishing spots
– Precise underwater manoeuvrability
– Real-time underwater livestreaming capabilities
Underwater Drone Cons:
– Potential noise and disturbance to marine wildlife
– User distraction from fishing experience
– Limited fishing applications
Choosing the Right Option for Your Underwater Fishing Adventures
When deciding between Seavu and an underwater drone for underwater fishing, consider your specific fishing needs and preferences. If you prioritize cost-effectiveness, ease of use, real-time livestreaming, immediate visibility, and customization, Seavu is an excellent choice. Its affordability, user-friendly design, and livestreaming capabilities make it a compelling option for underwater fishing enthusiasts. On the other hand, underwater drones offer remote exploration and precise manoeuvrability, but come with the potential drawbacks of noise, user distraction and are not suitable for all fishing applications.
Evaluate your priorities, budget, and fishing requirements to determine the best tool for capturing and livestreaming your underwater fishing adventures. Seavu provides a reliable and accessible solution, ensuring you can witness the underwater world in real-time while enjoying your fishing experience to the fullest.