The underwater world is a captivating realm of beauty and wonder, and GoPro's latest Hero 12 Black is poised to revolutionize underwater videography, particularly when paired with tools like Seavu. Let's delve into how the Hero 12 Black's new features are enhancing the underwater filming experience:
1. Enhanced Aspect Ratio for Wider Seascapes
The Hero 12 Black now supports an extended 8:7 aspect ratio across various resolutions. This means that underwater videographers can capture more of the vast marine environment in a single frame. This feature is particularly valuable for wide-angle shots, allowing you to encompass expansive coral reefs or schools of fish in your footage.
2. HDR Video – Revealing Depth and Detail Underwater
Underwater scenes often present challenging lighting conditions, with stark contrasts between sunlit areas and the shadowed depths. The Hero 12 Black's support for High Dynamic Range (HDR) video ensures that your footage captures both the brilliantly lit portions and the intricacies of the darker areas, faithfully reproducing the play of light beneath the surface.
3. Superior Stabilization with HyperSmooth 6.0
The underwater environment can be unpredictable, with currents and movement that can impact the quality of your footage. HyperSmooth 6.0, featured in the Hero 12 Black, provides exceptional stabilization. Whether you encounter sudden currents or are filming fast-moving marine life, this feature ensures that your footage remains steady, resulting in smooth and cinematic sequences.
4. Perfect Fit with Seavu Explorer Housing
The Hero 12 Black seamlessly fits into the Seavu Explorer housing, ensuring a snug and reliable connection for your underwater filming adventures.
5. Extended Runtimes for Uninterrupted Exploration
One of the significant improvements in the Hero 12 Black is its enhanced power management system, which provides significantly longer recording times. You can now record continuously for up to 70 minutes at 5.3K60 (the Hero 12 Black's highest performance setting), over 95 minutes at 5.3K30, and more than 155 minutes at 1080p30, all while benefiting from the exceptional video stabilization of HyperSmooth 6.0.
6. Live Preview with Seavu Integration
A groundbreaking feature that returns with the Hero 12 Black is Live Preview during recording. This feature becomes even more revolutionary when integrated with Seavu. It allows you to view your underwater footage in real-time on the Quik app on your smartphone, right from the comfort of your boat or vessel. Additionally, when paired with the Hindsight feature, you can rest assured that you won't miss any crucial shots. Hindsight can capture up to 30 seconds of footage retroactively, ensuring you capture every moment, even if you weren't actively recording.
Conclusion
The GoPro Hero 12 Black, with its innovative features, is poised to transform underwater filming. When combined with the Seavu camera system kits, it offers an unparalleled underwater filming experience. Whether you are an underwater videographer, marine researcher, or a fishing enthusiast, the Hero 12 Black will become your trusted companion in revealing the secrets of the ocean. Dive in and explore the depths like never before, and share the breathtaking underwater world with the world through your lens.
Seavu is compatible with most Action cameras. Please see our camera compatibility list for full details.
Diving into the world of action cameras, DJI's Osmo Action 4 certainly makes a splash. After spending quality time with this innovative device, we're eager to share our findings.
Features that Redefine Action Photography
1. Larger Image Sensor
The 1/1.3″ image sensor ensures that every shot is rich and detailed, especially in challenging lighting conditions, like the ones encountered underwater.
2. Extended Battery Life & GPS
Extended recording sessions are a breeze with its long-lasting battery, and with the integrated GPS, tracing your adventures has never been easier.
3. Enhanced Video Quality
With 4K/120fps mode and a 155º ultra-wide FOV, every frame is a canvas. Plus, the 10-bit D-Log M ensures a seamless post-production experience.
4. 360° HorizonSteady Stabilisation
Footage remains stable, whether you're racing downhill or vlogging your daily routines.
5. Underwater Livestream with Seavu Compatibility
One of the standout features is its full compatibility with Seavu. Not only can you record mesmerizing underwater scenes, but you can also livestream these moments. This is a game-changer for divers, marine enthusiasts, or anyone keen on sharing real-time underwater experiences.
Deep Dives into the Key Features
10-BIT Footage
This advanced feature ensures rich colors and makes the editing process intuitive and efficient.
RockSteady Stabilisation
Your footage, regardless of the scenario, remains smooth, thanks to this stabilization marvel.
Underwater Excellence
The larger image sensor magnifies the camera's underwater low-light capabilities, offering crisp visuals even in the dim aquatic surroundings.
Peerless Image Sensor
Be it above land or under water, the Osmo Action 4 consistently shines in capturing realistic imageries.
ND Filters
They infuse a cinematic touch to the visuals, though they do necessitate careful handling during intense motion.
Slow Motion
This feature is a treasure trove for those looking to add drama to their clips, especially on social platforms.
GPS Integration
For those chronicling their journeys, this feature not only captures the visuals but also the path they tread.
Final Thoughts
With the ever-evolving landscape of action cameras, the DJI Osmo Action 4 is not just another addition but a formidable contender. Whether you're diving into the depths of the ocean or hiking up a mountain, it's designed to be your reliable companion, ensuring every memory is captured in its full glory.
Get underwater livestream with your DJI Action 4 and Seavu. Check out our Seavu Underwater Camera Kits.
Underwater fishing photography is a captivating art form that allows you to capture the excitement and beauty of the underwater world while showcasing the thrill of catching fish. In this blog post, we will delve into the art of underwater fishing photography and provide you with valuable tips on composition, lighting, and capturing the unique underwater environment. We will also introduce you to the innovative Seavu product, which will enhance your underwater fishing photography experience and help you capture stunning moments beneath the surface.
Plan Your Composition:
Composition is key when it comes to underwater fishing photography. Before diving in, take a moment to visualise the shot you want to capture. Consider the positioning of the fish, the angler, and the surrounding elements. Aim for a balanced composition and utilise the rule of thirds to create a visually pleasing image. Experiment with different angles and perspectives to add depth and interest to your photographs.
Utilise Natural Lighting:
Lighting plays a crucial role in underwater photography. Take advantage of natural light to capture the vibrant colours of the underwater environment. Time your dives during the golden hour, when the sun is low in the sky, to achieve warm and soft lighting. Avoid harsh midday sunlight, as it can create unflattering shadows and washed-out colours. If necessary, use filters or adjust the white balance settings on your camera to compensate for the colour loss caused by the water.
Get Up Close and Personal:
To truly capture the thrill of catching fish, get close to the action. Use a wide-angle lens or a fisheye lens to capture the underwater scene in its entirety. By getting close to the subject, you can emphasise the size and power of the fish, as well as the intensity of the angler's reactions. Remember to maintain a safe distance from the fish and respect their natural habitat while capturing these captivating moments.
Capture the Underwater Environment:
Don't just focus on the fish and the angler; capture the beauty of the underwater environment as well. Include elements such as coral reefs, seagrass, or rocky structures in your frame to provide context and add interest to your photographs. These elements not only enhance the overall composition but also showcase the unique underwater ecosystem in which fishing takes place.
Introducing Seavu: Enhancing Your Underwater Fishing Photography Experience
The Seavu product is a game-changer for underwater fishing photography. With its innovative design and features, it allows you to capture stunning moments beneath the surface with ease and convenience. The Seavu Underwater Camera System offers real-time livestream capabilities, enabling you to view and capture underwater footage on your mobile device. Its compatibility with action cameras like GoPro ensures high-quality imaging and video recording. With Seavu, you can document your fishing adventures and share them in real-time with friends and fellow fishing enthusiasts.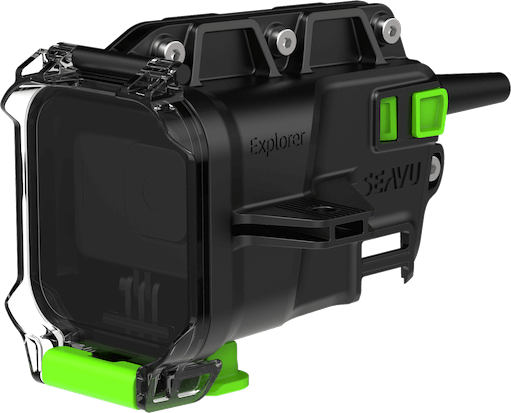 Unveiling the hidden world of underwater fishing through photography is an art that requires skill, patience, and an understanding of the unique challenges and opportunities that come with shooting underwater. By following these tips on composition, lighting, and capturing the underwater environment, you can create captivating photographs that showcase the thrill of fishing beneath the surface. And with the Seavu Underwater Camera System, you can elevate your underwater fishing photography experience by capturing and livestreaming your adventures in real-time. Embrace the hidden world and capture the essence of underwater fishing with your camera and the revolutionary Seavu product.
We hope you found these underwater fishing photography tips useful.
Happy fishing!
Underwater fishing adventures offer a captivating experience, and capturing the underwater world has become more accessible with advancements in technology. In this blog post, we will compare Seavu, a versatile underwater livestream solution, with underwater drones specifically for fishing purposes. By exploring the pros and cons of each option, you can make an informed decision about the best tool to enhance your underwater fishing experiences.
Seavu: Enhancing Fishing Livestream with Versatility
Seavu offers several advantages tailored to underwater fishing
Cost-Effectiveness and Accessibility: Seavu provides an affordable option for capturing underwater footage by utilizing your existing action camera, such as a GoPro. This makes it accessible to a wide range of fishing enthusiasts, eliminating the need for additional expensive equipment.
Easy Setup and Operation: With its plug-and-play functionality, Seavu is designed for user-friendliness. Setting it up and getting started with livestreaming underwater footage is a hassle-free process, allowing you to focus more on your fishing adventure. Simply insert your action camera into the Seavu Explorer case, and you're ready to dive into the underwater world.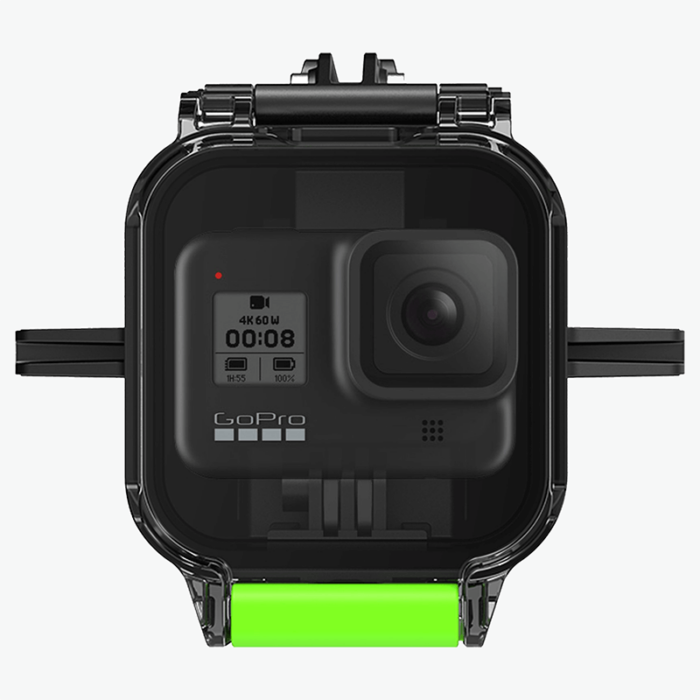 Real-Time Livestreaming: Seavu allows you to livestream underwater footage in real-time to your mobile device. This feature provides immediate visibility into underwater activity, enabling you to monitor fish behaviour and make well-informed fishing decisions on the spot. You can observe fish strikes, explore fishing grounds, track the movements of schools of fish, and adjust your fishing strategies accordingly, all in real-time.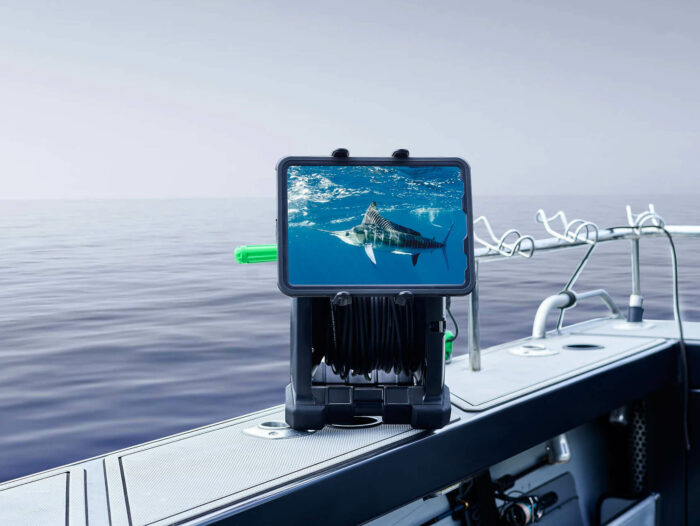 Customization and Versatility: Seavu's modular accessory clip system enables customization based on your fishing preferences. You can easily attach accessories like trolling fins, bait release clips, or pole mounts to tailor the system to your specific fishing techniques. This level of customization increases your chances of success and allows you to adapt to different fishing scenarios. Whether you're trolling, casting, or drop fishing, Seavu can be customised to meet your specific needs.
Underwater Drones: Capturing the Depths with Precision
Underwater drones, also known as underwater ROVs (remotely operated vehicles), provide unique advantages for fishing enthusiasts
Remote Exploration of Fishing Spots: Underwater drones allow for remote exploration of potential fishing spots. Equipped with high-resolution cameras, these drones provide a bird's-eye view of the underwater landscape, enabling you to identify underwater structures, locate schools of fish, and scout the perfect fishing location without submerging yourself.
Precise Underwater Manoeuvrability: Underwater drones offer precise control and manoeuvrability, allowing you to navigate tight spaces and manoeuvre around submerged structures. This capability ensures that you can reach areas that may be difficult to access with traditional fishing gear, expanding your fishing opportunities.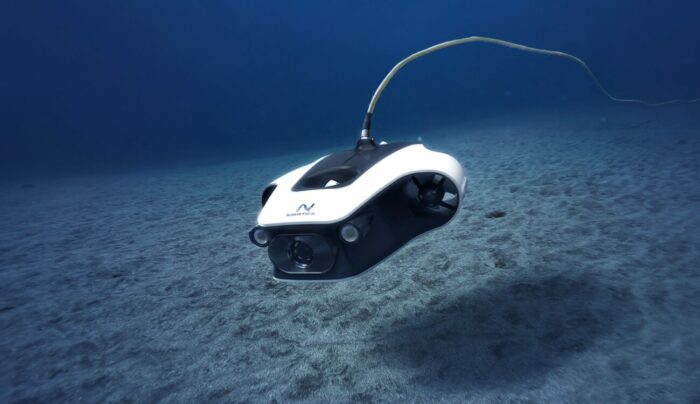 Potential Drawbacks of Underwater Drones
While underwater drones offer unique advantages, it's important to consider the potential drawbacks specific to fishing.
Noise and Disturbance: Underwater drones can create noise and vibrations that may disturb marine wildlife. This disturbance can affect their natural behaviour and may interfere with the fishing experience.
User Distraction: Operating an underwater drone requires constant attention and focus, which can detract from the fishing experience. It may divert your attention from actively fishing and enjoying the surroundings, as you need to monitor and control the drone.
Limited Fishing Applications: Underwater drones are primarily designed for exploration purposes and are not optimized for specific fishing techniques like trolling. Their size and configuration is not be suitable for efficient trolling operations. Instead, underwater drones excel in tasks such as scouting and mapping fishing grounds while the boat is anchored.
Pros and Cons: Seavu vs. Underwater Drones for Underwater Fishing
Let's examine the pros and cons of Seavu and underwater drones, specifically for underwater fishing:
Seavu Pros:
– Cost-effective and accessible solution
– Easy setup and operation
– Real-time underwater livestreaming capabilities
– Customizable with a modular accessory clip system
Seavu Cons:
– Limited range compared to underwater drones
Underwater Drone Pros:
– Remote exploration of fishing spots
– Precise underwater manoeuvrability
– Real-time underwater livestreaming capabilities
Underwater Drone Cons:
– Potential noise and disturbance to marine wildlife
– User distraction from fishing experience
– Limited fishing applications
Choosing the Right Option for Your Underwater Fishing Adventures
When deciding between Seavu and an underwater drone for underwater fishing, consider your specific fishing needs and preferences. If you prioritize cost-effectiveness, ease of use, real-time livestreaming, immediate visibility, and customization, Seavu is an excellent choice. Its affordability, user-friendly design, and livestreaming capabilities make it a compelling option for underwater fishing enthusiasts. On the other hand, underwater drones offer remote exploration and precise manoeuvrability, but come with the potential drawbacks of noise, user distraction and are not suitable for all fishing applications.
Evaluate your priorities, budget, and fishing requirements to determine the best tool for capturing and livestreaming your underwater fishing adventures. Seavu provides a reliable and accessible solution, ensuring you can witness the underwater world in real-time while enjoying your fishing experience to the fullest.
When it comes to capturing thrilling moments during your underwater adventures, the DJI Action 3 is an exceptional action camera that delivers outstanding performance. To fully unleash its potential, you need a reliable waterproof case that ensures the safety and protection of your DJI Action 3 in aquatic environments. In this blog post, we will explore why the Seavu Explorer is the best waterproof case for the DJI Action 3. With its innovative features, exceptional durability, and user-friendly design, the Seavu Explorer takes your underwater filming experience to new depths.
Excellent Waterproof Performance
The Seavu Explorer is specifically designed to provide unparalleled waterproof performance for the DJI Action 3. With its IPX8 waterproof rating, it allows you to dive up to 164 feet (50 meters) with your DJI Action 3, ensuring that your camera remains dry and fully functional even in extreme underwater conditions. Whether you're exploring vibrant coral reefs, capturing epic underwater shots, or engaging in thrilling water sports, the Seavu Explorer keeps your DJI Action 3 protected and ready to capture every moment.
Robust Construction and Durability
Crafted with high-quality materials, the Seavu Explorer is built to withstand the rigours of underwater adventures. Its rugged construction and impact-resistant design ensure that your DJI Action 3 is shielded from bumps, scratches, and accidental drops. The Explorer's durable housing is engineered to endure the harsh underwater environment, making it a reliable companion for all your underwater filming endeavours.
Seamless Compatibility and Easy Operation
The Seavu Explorer is designed with seamless compatibility in mind, ensuring a perfect fit for your DJI Action 3. Its camera mount system allows you to insert and remove the camera with ease, making it convenient for setting up and preparing for your underwater shots.
Crystal Clear Image Quality
With the Seavu Explorer, you can capture stunning underwater footage without compromising on image quality. The case features a high-transmittance flat glass lens that ensures sharp, clear, and distortion-free visuals. The optical clarity of the lens allows you to capture the vibrant colours and intricate details of the underwater world, bringing your footage to life with breathtaking clarity and precision. Here's some DJI Action 3 settings tips for filming underwater.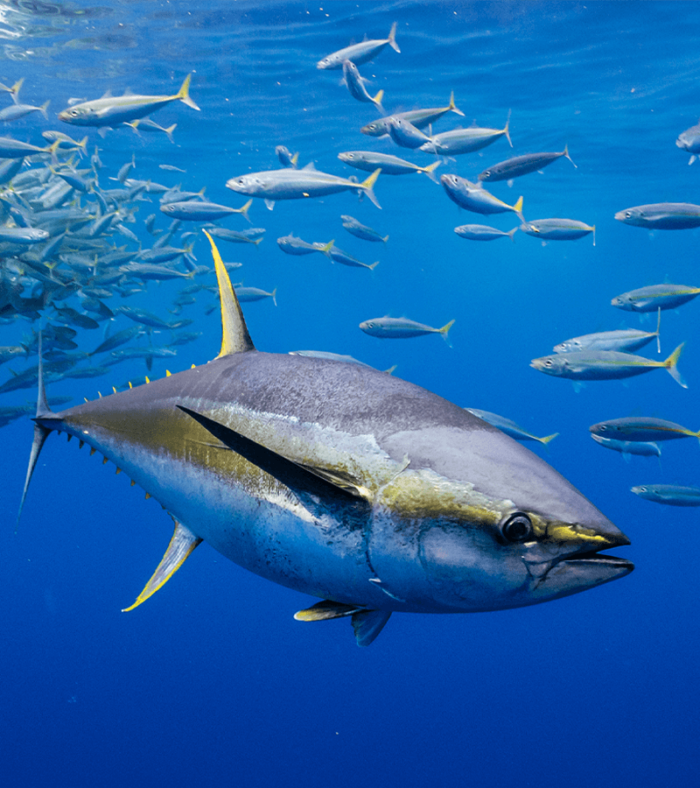 Versatile Mounting Options
With its modular accessory clip system, the Seavu Explorer Case provides unmatched versatility, making it a game-changing option for underwater filmmakers. This versatility gives you the freedom to experiment with different filming angles and perspectives, enhancing the creative possibilities of your underwater footage.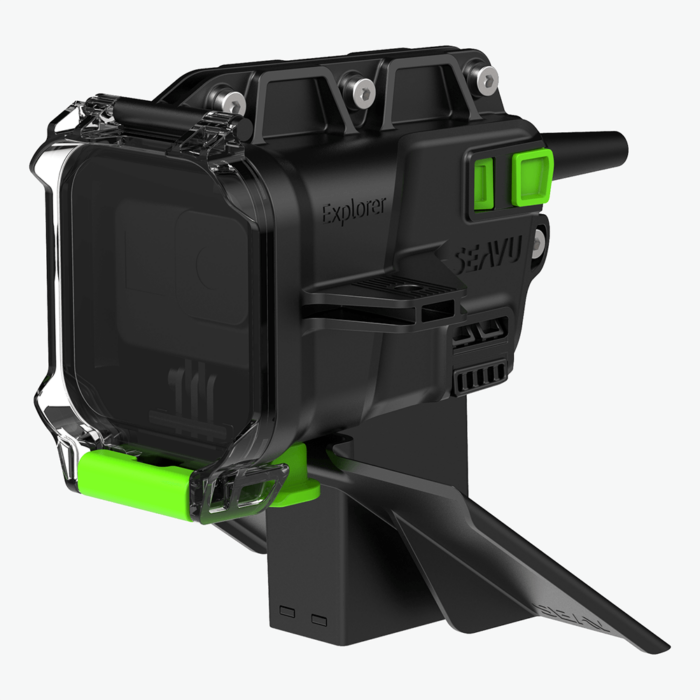 Livestream Capability
This innovative case, when paired with the Seavu Reel and cable, offers a unique Passive WiFi Extension Antenna. It allows for live streaming of footage up to 27 metres underwater, providing real-time monitoring and recording capabilities.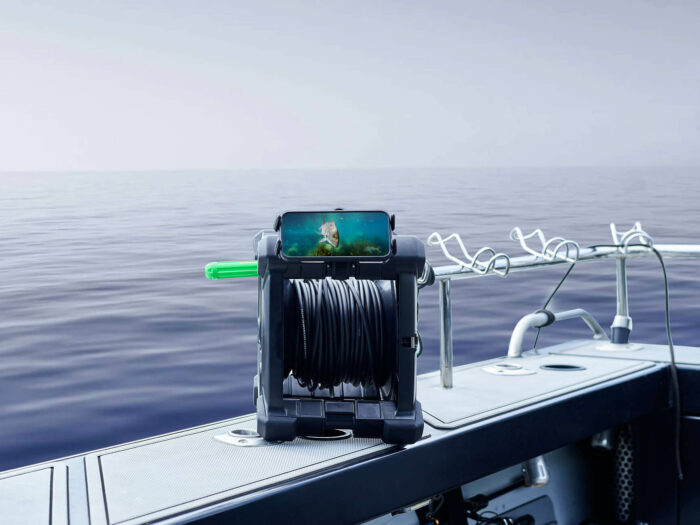 When it comes to protecting and enhancing the filming capabilities of your DJI Action 3 in underwater environments, the Seavu Explorer stands out as the ultimate waterproof case. With its unmatched waterproof performance, durable construction, seamless compatibility, crystal clear image quality, versatile mounting options, and livestream capability, the Seavu Explorer empowers you to capture stunning underwater footage with confidence and ease. Elevate your underwater filming experience and unlock the full potential of your DJI Action 3 with the Seavu Explorer — your trusted companion for underwater adventures.
Underwater livestreaming has revolutionised the way we capture and share our underwater adventures. However, using a GoPro or similar action camera for underwater livestreaming can present certain limitations, particularly when it comes to the underwater WiFi connectivity. In this blog post, we will explore the common limitations of GoPro underwater WiFi for livestreaming and how the Seavu solution overcomes them, providing a game-changing alternative for capturing and sharing your underwater experiences.
Extended Underwater WiFi Range:
One of the primary limitations of using GoPro underwater WiFi for livestreaming is the limited connectivity range. GoPro cameras heavily rely on WiFi connections to stream footage to a mobile device. However, once the camera is submerged underwater, the signal range decreases significantly, resulting in a loss of connectivity. This limitation restricts livestreaming capabilities and hinders real-time monitoring and control.
How Seavu Overcomes It
The Seavu solution revolutionises underwater livestreaming by incorporating a Passive WiFi Extension Antenna. This innovative technology significantly extends the underwater WiFi range, allowing for uninterrupted livestreaming even when the Seavu system is submerged up to 27 metres underwater. With Seavu, you can enjoy continuous connectivity and real-time visibility of underwater footage, regardless of the camera's depth, thus enhancing your underwater livestreaming experience.
Optimised Mounting Options:
GoPro cameras offer various mounting options for underwater use, but their versatility can still be limited when it comes to livestreaming. Achieving secure and stable mounting while maintaining a reliable WiFi connection can be challenging. This limitation affects the positioning and stability of the camera, potentially compromising the quality of the livestream.
How Seavu Overcomes It
The Seavu solution provides a comprehensive and optimised mounting system specifically designed for underwater livestreaming. The Seavu Explorer platform features a modular accessory clip system that ensures secure and customisable mounting options. This system guarantees the stability and proper positioning of the camera during livestreaming, resulting in steady footage and an enhanced viewing experience. Seavu's optimised mounting options alleviate the limitations of GoPro underwater WiFi, enabling you to capture uninterrupted livestreams with confidence.
Reliable Waterproofing and Protection:
While GoPro cameras are known for their waterproof capabilities, additional protection is often required for extended underwater use and livestreaming. Traditional waterproof casings may not provide sufficient protection against water damage and may compromise the functionality of the camera's built-in WiFi capabilities.
How Seavu Overcomes It
Seavu addresses the waterproofing concerns by providing the Seavu Explorer, featuring an IPX8 waterproof rating. With a waterproof rating up to 50 metres, the Seavu Explorer offers exceptional protection for your action camera during underwater livestreaming adventures. The fully sealed Explorer Case ensures optimal waterproofing, allowing you to explore the depths with confidence while maintaining reliable WiFi connectivity. Seavu's waterproof design protects your equipment and optimises the GoPro underwater WiFi capabilities for seamless livestreaming.
GoPro underwater WiFi limitations can impede the livestreaming experience when capturing underwater footage. However, the Seavu solution overcomes these limitations by extending the WiFi range, providing optimised mounting options, and ensuring reliable waterproofing and protection. With Seavu, you can achieve uninterrupted and immersive underwater livestreaming, capturing and sharing your underwater adventures like never before. Don't let GoPro underwater WiFi limitations hold you back—embrace the Seavu solution and elevate your underwater livestreaming experience to new depths.
Capturing stunning underwater footage with your GoPro Hero 11 requires the right settings to ensure optimal image quality and colour accuracy. In this blog post, we will explore the recommended settings specifically tailored for underwater footage. From frame rate and resolution to white balance and colour profiles, these settings will help you unleash the full potential of your GoPro Hero 11 and produce consistently high-quality underwater videos.
Recommended Settings for Underwater Footage:
Frame Rate and Resolution
Choose either 30 or 24 FPS for smooth motion and cinematic-like footage. Set the resolution to either 2.7K or 4K for greater detail and flexibility during editing.
Lens (Field of View)
Select the Wide option to capture a wider perspective and include more of the underwater scene in your footage.
HyperSmooth (Stabilisation)
Set HyperSmooth to AutoBoost to enable the built-in stabilisation feature, reducing camera shake and producing smoother underwater footage.
Pro Controls
Turn on Pro Controls to unlock advanced settings and have full control over your GoPro Hero 11's features.
10-Bit Colour
Enable 10-Bit Colour to capture a broader range of colours and achieve more accurate colour grading during post-production.
Bit Rate
Choose the High setting to ensure the highest quality video encoding and preserve fine details in your underwater footage.
Shutter Speed
Set the shutter speed to Auto, allowing the camera to adjust the exposure on the fly based on the available light.
EV Comp
Adjust EV Comp to -0.5 to slightly underexpose the footage and prevent highlights from being blown out in bright underwater environments.
White Balance
Set the white balance to 4500K to maintain accurate colours underwater and avoid the footage looking green or purple. This preserves the natural blue tones of the underwater world.
ISO
Set the ISO min to 100 for the best image quality with minimal noise. Adjust the ISO max to 400 to account for low light conditions, avoiding excessive noise.
Sharpness
Choose either Low or Medium to retain details while minimising sharpening artifacts that can occur in underwater footage.
Colour Profile
Select Flat for a desaturated colour profile, allowing greater flexibility in colour grading during post-processing. Alternatively, choose Natural for more vibrant and contrasty footage straight out of the camera.
RAW Audio
Turn off RAW Audio to disable RAW audio recording and save storage space. Underwater audio is usually less important and can be supplemented with music or ambient sound in post-production.
Wind (Noise Reduction)
Disable Wind Noise Reduction, as it is not necessary for underwater footage.
Wi-Fi Band (Seavu Live Preview)
Set Wi-Fi Band to 2.4Ghz in order to livestream underwater footage with Seavu camera system. See full instructions on how to set camera Wi-Fi Frequency to 2.4Ghz.
With the recommended settings for underwater diving footage on your GoPro Hero 11, you can capture breathtaking videos that showcase the beauty of the underwater world. Adjusting frame rates, resolutions, white balance, and colour profiles, among other settings, gives you full control over your footage and ensures optimal image quality. Remember to experiment with different settings and accessories to find the perfect combination for your underwater adventures. Dive deep and capture the hidden wonders beneath the surface with your GoPro Hero 11!
Fishing is not just a hobby; it's a way of connecting with nature, experiencing tranquillity, and seeking the thrill of the catch. As technology advances, fishing enthusiasts are now able to enhance their fishing experience through innovative tools. One such tool is the underwater livestream camera. In this blog post, we will explore the benefits of using an underwater livestream camera for fishing and how it can elevate your fishing adventures to new heights.
Improved Fish Spotting and Understanding
Traditional fishing methods often rely on guesswork and intuition to locate fish. However, an underwater livestream camera provides real-time visibility beneath the water's surface, allowing you to spot fish and observe their behaviour. By gaining visual insights into their habitat, movement patterns, and feeding habits, you can make more informed decisions about bait selection, casting techniques, and optimal fishing spots. This increased understanding can significantly improve your chances of a successful catch.
Enhancing Fishing Techniques
An underwater livestream camera serves as a valuable learning tool to enhance your fishing techniques. By observing how fish react to different bait presentations, lure movements, and retrieval speeds, you can fine-tune your approach accordingly. The camera's live footage enables you to adjust your tactics in real-time, experimenting with different strategies and analysing the fish's responses. This valuable feedback loop can lead to improved fishing skills and increased success rates on future outings.
Exploring New Fishing Grounds
With an underwater livestream camera, you can explore new fishing grounds with confidence. It allows you to assess unfamiliar water bodies, such as lakes, rivers, or coastal areas, before even casting a line. By gaining insights into the underwater terrain, structure, and potential fish populations, you can strategically plan your fishing strategy and identify the most promising locations. This knowledge opens up a world of new fishing opportunities and maximises your chances of landing that prized catch.
Documenting and Sharing Fishing Adventures
An underwater livestream camera is not just a practical tool; it's also a source of incredible memories. Capturing high-quality footage of your fishing adventures adds a new dimension to the experience. You can record exhilarating moments, document rare species, and create captivating videos showcasing your angling skills. Furthermore, sharing these videos with fellow anglers, friends, and family allows you to connect, inspire, and contribute to the fishing community. It becomes a medium for storytelling and fostering a sense of camaraderie among fellow fishing enthusiasts.
Environmental Awareness and Conservation
Using an underwater livestream camera for fishing promotes environmental awareness and conservation efforts. By observing fish behaviour in their natural habitat, you develop a deeper appreciation for their ecosystem and the need to protect it. This firsthand experience enhances your understanding of sustainable fishing practices, such as catch-and-release techniques, respecting fishing regulations, and conserving fish habitats. With this newfound knowledge, you become an advocate for responsible fishing, contributing to the long-term health of aquatic ecosystems and ensuring future generations can enjoy the wonders of fishing.
Engaging with Nature and Learning Opportunities
Fishing is not just about catching fish; it's about immersing yourself in nature and embracing its beauty. Using an underwater livestream camera allows you to witness the underwater world firsthand, discovering the diverse marine life, aquatic plants, and the delicate balance of nature. It provides an educational experience, especially for children, fostering curiosity, respect for the environment, and a desire to protect our natural resources. Through this unique perspective, you can cultivate a lifelong passion for fishing and environmental stewardship.
The benefits of using an underwater livestream camera for fishing are undeniable. From improving fish spotting and enhancing fishing techniques to exploring new fishing grounds and documenting memorable moments, the camera revolutionises the way we approach angling. It promotes environmental awareness, encourages responsible fishing practices, and opens doors to new learning opportunities. By embracing this technology, fishing enthusiasts can elevate their fishing experience, creating lasting memories and forging a deeper connection with the underwater world. So, grab your underwater livestream camera and embark on unforgettable fishing adventures that blend the excitement of angling with the wonders of the aquatic realm.
When it comes to capturing the vibrant life beneath the waves, the quality of your action camera can make or break your underwater footage. With the DJI Action 3 and GoPro Hero11 Black at the forefront of the action camera market, deciding which one is best for your underwater adventures can be challenging. Let's dive into a detailed comparison of these two giants in the context of underwater photography.
DJI Action 3
Unmatched Underwater Visibility
The DJI Action 3 has been making waves in the action camera market, and it truly shines when taken underwater. Its robust build quality and user-friendly features are only the tip of the iceberg.
Pros
– Superior performance in low-light conditions: The DJI Action 3's enhanced low-light performance ensures that your underwater footage remains clear and vibrant, even in darker, deeper waters.
– Front touchscreen: The DJI Action 3 features a front touchscreen, making it easier to frame your shots and control the camera underwater.
– Live preview via Mimo App: With the DJI Mimo app, you can live preview your footage while recording – a handy feature when you're trying to capture that perfect underwater shot.
Cons
– Lower resolution: The DJI Action 3 does not support 5.3K resolution, which might be a drawback for those seeking the highest possible resolution.
GoPro Hero11 Black
High-Resolution Underwater Powerhouse
The GoPro Hero11 Black builds upon the impressive legacy of its predecessors, offering a range of features that make it a worthy contender for underwater photography.
Pros
– High resolution: The GoPro Hero11 Black offers 5.3K resolution, ensuring crisp and detailed underwater footage.
– Superior image stabilization: The GoPro Hero11 Black's top-notch image stabilization ensures smooth footage, even in turbulent underwater conditions.
Cons
– Lower low-light performance: The GoPro Hero11 Black's low-light performance isn't as robust as that of the DJI Action 3, which may result in darker, less detailed footage in certain underwater conditions.
– No live preview while recording: Since the GoPro Hero 9, live preview during recording has been disabled in the GoPro Quik app, which may affect your ability to frame your shots when the camera is beyond reach.
Underwater Comparison
While the GoPro Hero11 Black offers higher resolution and superior image stabilization, the DJI Action 3 truly stands out when it comes to underwater photography due to its superior low-light performance and live preview feature. Underwater environments can often be dim and unpredictable, making these features invaluable for capturing high-quality footage.
Additionally, the front touchscreen on the DJI Action 3 enhances its usability underwater. Being able to easily adjust settings and frame your shots can significantly improve your underwater photography experience.
Conclusion
When choosing the best action camera for underwater footage, it's important to consider the unique challenges of underwater photography. Low-light performance, ease of use, and the ability to preview your footage are crucial factors.
With its superior low-light capabilities and live preview feature, the DJI Action 3 emerges as a strong contender for the best underwater action camera. While the GoPro Hero11 Black does offer higher resolution and fantastic image stabilization, the lack of live preview during recording and lower low-light performance might limit its utility in deeper or murkier waters.
Ultimately, the decision between the DJI Action 3 and the GoPro Hero11 Black will depend on your specific needs and priorities. Whether you're exploring a coral reef or diving into the deep blue sea, both cameras are more than capable of capturing your underwater adventures in stunning detail.